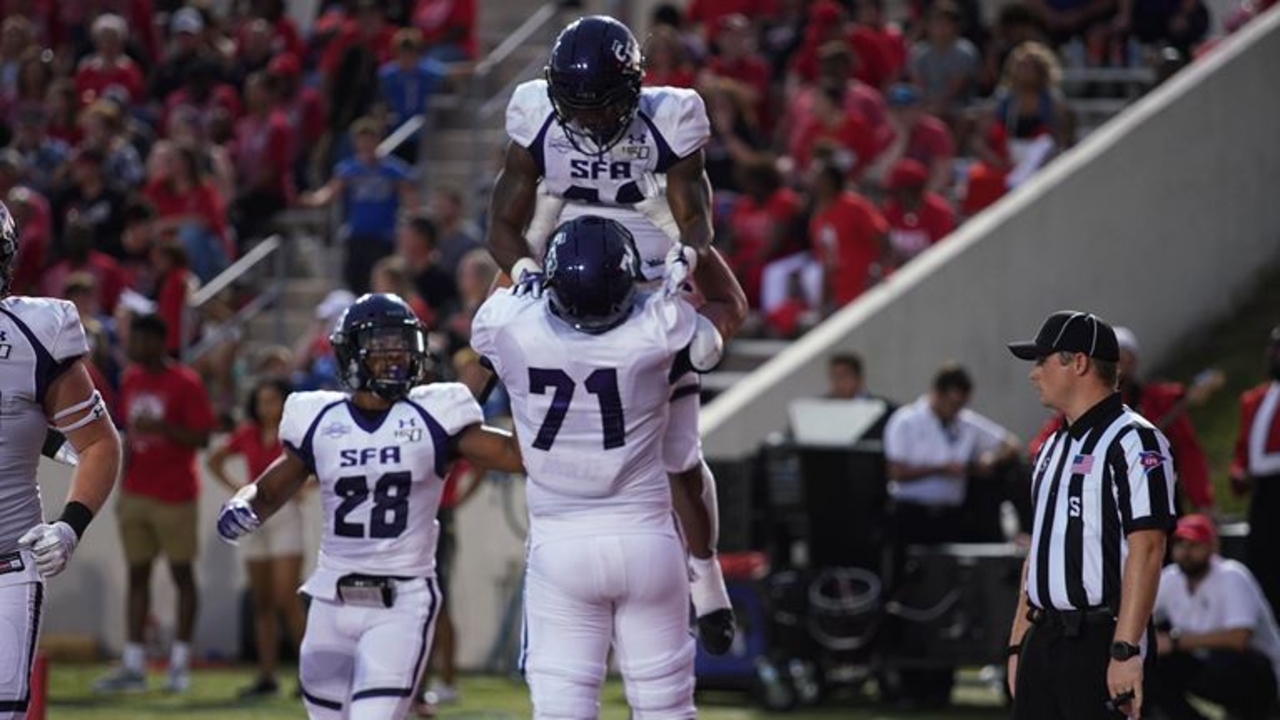 Photo by SFA Athletics
Stephen F. Austin Football
Lumberjacks secure Carthel's first win in Southland Conference thriller
---
BEAUMONT, Texas- After 343 days of tasting defeat, the SFA Lumberjacks earned the right to taste the feeling of victory after downing the Lamar Cardinals 24-17 in a Southland Conference showdown Saturday night inside the barriers of Provost Umphrey Stadium in Beaumont.
Colby Carthel, head coach, secured his first-ever victory as the sideline general for the resilient SFA Lumberjacks. SFA still had numerous upperclassmen players inactive due to injury and eligibility issues, but Carthel and his staff led the 32 freshmen crew out into enemy territory along with the remaining starters and other upperclassmen players and they gifted him with the sweet feeling of victory.
"This win is the best one ever and the next one will be just as good as this one. Winning never gets old and it's such a great disparity between winning and losing," Carthel said.
"I'm really tickled for this team and especially these seniors who've been through so much this season. They've worked their tails off despite the adversity and found ways to lead this team. We brought 32 freshmen for this trip and all of them are playing well above their means. This was a great team win. They're backs have been against the wall with all the unfortunate personell issues we've had to face that were completely out of the players' control, but we brought up nine freshmen defensive linemen and four of them were walk-ons, so these young guys are playing above their means and have gave us everything they have and that's what makes this win so special. We're getting better each week. We said before the season started that we wanted to get better each week. We said during the summer that 2019 will be successful if we can improve and get better week-by-week, and we have clearly gotten better game and by game and we'll continue to improve and put a product on the field that SFA and the East Texas community will be proud of."
SFA totaled 395 yards for the game while holding Lamar to their lowest scoring output at home since the 2017 season. Trae Self, quarterback, completed 18 passes for 291 yards and made some huge throws down the stretch of the game which helped put the Lumberjacks in solid scoring position. Despite his terrible pick-six that gave Lamar frequent momentum, Self stayed persistent and confident throughout the game and ultimately made big-boy plays that had a major impact on the outcome of the game.
Calvin Clater easily had his best game donning the SFA colors as he compiled 143 receiving yards on three receptions while averaging 47.7 yard per catch. Xavier Gipson, wide receiver, picked up from his career game last weekend and showed off his talents to the Lamar faithful. Gipson caught six passes for 89 total yards and his longest reception came from 36 yards out.
Trenton Gordon, safety, led all Lumberjacks with 11 total tackles. Gerald McKnight recorded nine total tackles and Quin Jones, senior linebacker, compiled seven total tackles and three tackle assists on the night. Marcus Mosley made his name known to the Southland Conference after wrecking shop on the Lamar offense all game long. Mosely recorded eight total tackles, two tackles for loss and one sack during the game. Amad Murray, freshmen defensive end, aided Mosely in giving the Lamar offense nightmares. Murray had a coming out party by recording six tackles, two tackles for loss and two sacks.
Lamar took a 17-16 lead with 6:44 left in the game after Jordan Hoy, quarterback, connected with A.J. Walker for a six-yard touchdown pass. The touchdown came after a heartbreaking defensive pass interference penalty helped Lamar continue to the drive when it appeared SFA had them stopped in their tracks. However, SFA would respond in the best way.
On their next possession, the SFA offense faced a third down and long deep inside their own 25-yard line. Self dropped back out of the pocket and hurled a 10-yard bomb through the Lamar defense to Clater. After the making the catch, Clater turned into the roadrunner and sped 58 yards up the field setting the SFA offense inside the red zone. After being in the red zone, SFA decided to play some trickery on the overwhelmed Cardinal defense. De'Leon Ward, running back, surprised everybody on the field when he received the snap and threw a short four-yard touchdown pass to Ryan Waugh, freshman tight end, which gave SFA a 22-17 lead. Afterwards, Self ran across the goal line for the two-point conversion giving the Lumberjacks a 24-17 advantage with 5:15 left in the game.
Finally, the SFA defense showed their strength one final time and stopped the Cardinals courtesy of McKnight. He busted through the Lamar offensive line and sacked Hoy on third down and long which effectively ended all hopes of a Lamar touchdown drive. Lamar elected to go for all the marbles on fourth down, but the SFA defense had no interest in extending the game and they forced an incomplete pass to further secure their first win of the season.
Carthel was pleased with how his team responded to their mistakes and how they executed the final offensive and defensive possessions of the game.
"We had some big plays," Carthel said. "It was a big time catch and run by Calvin (Clater). We been waiting for him to step up and make plays like that. Trae (Self) did a great job. He overcame his mistake and dropped back there and delivered the strike. They put the points on the board we needed to win the game, but we've got a lot to clean up in all areas of the game. In the game of football your never satisfied it's so much to improve on so we'll enjoy this win for about 18 hours and then get back to work on Sunday in preparation for our next matchup."
SFA will play in the 94th installment of the Battle of the PineyWoods against their hated rival the Sam Houston State University Bearkats. SFA will look to knock off the favored Bearkats and set the entire Southland Conference on notice.
"This win sets up a fun week. It's a game we have been looking forward to since we have taken the job," Carthel said. "It's a tremendous rivalry. I guarantee you this young team will show up and battle for 60 minutes and make SFA proud."
Kickoff is set for 3 p.m. Saturday, Oct. 5, at NRG Stadium in Houston. The game will be streamed live on the ESPN+ app and can be watched nationally on ESPN3.
Never miss the latest news from The Sawmill!
Join our free email list