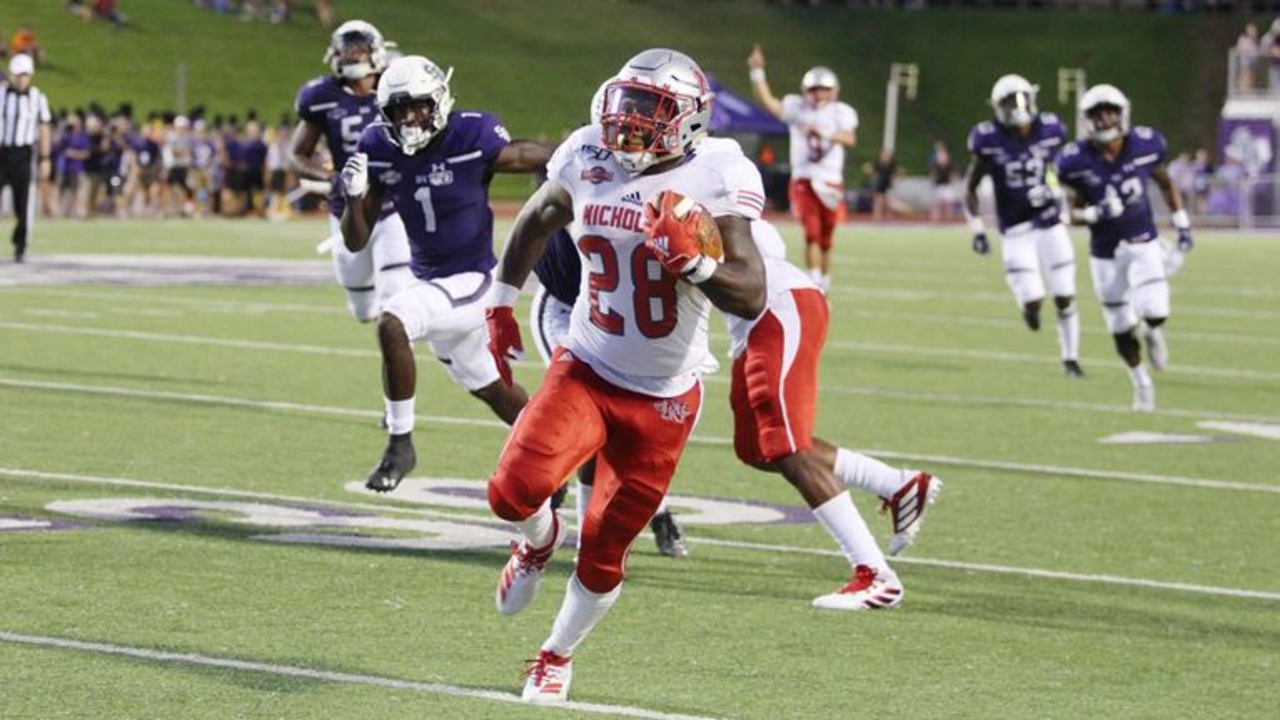 Photo by Nicholls State Athletics
Stephen F. Austin Football
What we Learned: Lumberjacks falter late in Southland Conference debut
---
NACOGDOCHES, Texas- Third down ineffectiveness, goal line inconsistency and busted defensive coverage plagued the SFA Lumberjacks in their 48-30 defeat at the hands of the reigning Southland Conference Champions and ninth-ranked Nicholls Colonels Saturday night between the hills of Homer Bryce Stadium.
SFA trailed 35-23 with under ten minutes remaining in their Southland Conference opener. Trae Self, junior quarterback, connected with Calvin Clater, wide receiver, for a 45-yards pass setting up SFA deep inside the Colonels territory. One play later, Self hooked up with his 6-foot-4, 245 pound tight end, Allen Arclies III for a 10-yard touchdown connection. Arclies' touchdown reception cut the Colonels lead to 35-30 after the extra point from Storm Ruiz. The three-play 56-yard drive by the Jacks gave them major momentum as their defense hit the field with 9:48 left in the game. The SFA defensive unit forced a three-and-out and gave the ball back to the SFA offensive unit with roughly five minutes left in the game. Unfortunately, SFA's potential game-winning possession came to an abrupt end after the offense was stopped on third and fourth down at midfield. Cam Arnold, backup quarterback, was inserted on fourth down and one and was stood up at the line by Allen Pittman, defensive end.
Afterwards, Nicholls had no plans of letting the Lumberjacks steal this game and they answered with a six-play, 57-yard drive ending with a six-yard touchdown run by Chase Forcade which extended the Nicholls lead to 41-30. The Nicholls defense would intercept a pass thrown by Self on SFA's last possession of the game and proceeded to effectively close the deal with another late touchdown giving them the final 48-30 advantage.
Self threw for a career high 354 yards on 24-43 passing attempts. He also threw two touchdowns and one interception. Clater caught five passes for 80 yards and Xavier Gipson, freshman wide receiver, had a breakout game catching two passes for 75 yards and one long touchdown. Gipson also gave the Lumberjacks numerous possessions in great starting field position after compiling 135 total yards on five kick returns. Gavin Roland, safety, led all defensive players with 17 total tackles.
SFA (0-4 overall, 0-1 Southland Conference) finds themselves in familiar territory after losing the first conference game, but Colby Carthel, head coach, hasn't experienced this feeling in his coaching career but remains positive about his team going forward.
"I've never lost four games in a row in my life and I've never started a season 0-4, but to be honest, we're having fun coaching these kids," Carthel said.
"If people pick up the paper or see the score online they're not going to see or begin to understand how great this game really was. I was really proud of our guys and how hard they continued to play throughout the game. We fought through some adversity, went toe-to-toe with the ninth-ranked team in the nation and the defending Southland Conference Champions. We made stops when we needed to, had the ball in our possession with a chance to win the game, but we just couldn't convert and make the first down. Our guys were close, but we just didn't play a complete game. We have young freshmen starting at different positions all across the board and these guys have competed and fought hard despite the circumstances, that is why it's so fun coaching this team. They're always motivated and they refuse to quit."
Here's three takeaways from the Lumberjacks' heartbreaking defeat to the Colonels.
1. Goal Line Inconsistency
The Lumberjacks found themselves down 14-7 after giving up two consecutive scores to Nicholls during the early part of the first half. In the second quarter SFA drove down the field on two straight possessions and had three chances to score deep inside the Colonels territory. However, the offense suddenly stalled on the goal line and was forced to settle for two field goals on both of their possessions. As a result of SFA's busted offensive execution on the goal line, they missed an opportunity to score 14 points and had to settle for six instead.
Later towards the end of the third quarter, SFA got another golden opportunity to potentially score a touchdown that could've possibly cut the lead to one point, but instead the offense failed to convert on a third down and long and Ruiz came in and put three more points on the board. Ruiz had proven to be a reliable kicker this season, but during this game, he shouldn't have been relied upon to make those three field goals. The Lumberjack offense should've scored a touchdown on all three of those possessions. When you have a team like Nicholls backed into a corner you have to capitalize with touchdowns. Field goals are good, but six points is better than three and if SFA could've been more effective in their goal line sets, they could've possibly changed the outcome of this game.
2. More Defensive Struggles
The Nicholls rushing unit went old school on the Lumberjack defense and dominated them in every facet. The Colonels offensive line was overpowering and outhustling the fatigued and short-handed SFA defensive lineman all throughout the game, which gave the running backs and quarterbacks a clear advantage to gain chunks of yardage every time they touched the ball. The Colonels compiled 291 rushing yards on 57 attempts. Julien Gums rushed for 136 yards on 22 carries and crossed the plain three times. Jeremy Rounds rushed for 72 yards on nine carries and scored one touchdown while Forcade scored one touchdown on 18 carries for a total of 79 yards.
The passing game for the Colonels was limited as Forcade threw for a grand total of 145 yards on 16 attempts, but the rushing game was so effective that the passing game didn't need to be up to par. However, SFA should've done more to contain the rushing game since it became clear that it was the Colonels' sole source for offensive production, but the experience and intelligence of the Colonels' offensive line was too much for the SFA lineman to handle for 60 minutes. Going forward the defense will have to learn to adjust to the opposing offenses' strength despite their absence of players at numerous defensive positions.
3. Third Down Failures
The SFA Lumberjacks had arguably their worst performance of the season when it came to third down conversions. They were 2-12 on third down and 0-4 on fourth down. Most of their third downs stemmed from their poor goal line execution and the final important possession of the game when they were absolutely stood up at midfield by a determined Nicholls defense. SFA was down 35-30 and needed to convert to continue down the field and potentially score the game-winning touchdown, but the Lumberjacks failed to convert on third and fourth down during that possession and they never recovered from that point on.
The third down failures had a lot to do with the plays that were called during those situations. Receivers dropped passes, Self threw errant passes that were out of the receivers' reach and the running backs struggled to find any holes as they rushed for 58 yards on 22 carries. Third down conversions are vital to any team because they obviously keep the drive going and can mentally and physically wear the defense down which can give the offense a higher chance at scoring points. The SFA offense left numerous points hanging out to dry because they failed to be effective on third down and during goal line situations. They should feel optimistic they gave themselves chances to win, but have to learn how to capitalize on every opportunity when it presents itself.
Overall, SFA was in this game much like the last two previous games, but once again they failed to take advantage and lost control of the game in the last minutes where they needed to be at their best. Coaching mishaps, offensive ineffectiveness and defensive shortcomings all played a part in this loss, but this team has proven they can hang with their competition this season and they'll have to rise above that and learn how to close games with consistency.
The Lumberjacks will take their SLC show on the road as they'll battle the Lamar Cardinals. Kickoff is set for 6 p.m. Saturday, Sept. 28, at Provost Umphry Stadium in Beaumont. This game will be streamed live on ESPN+ and the ESPN app.
Never miss the latest news from The Sawmill!
Join our free email list