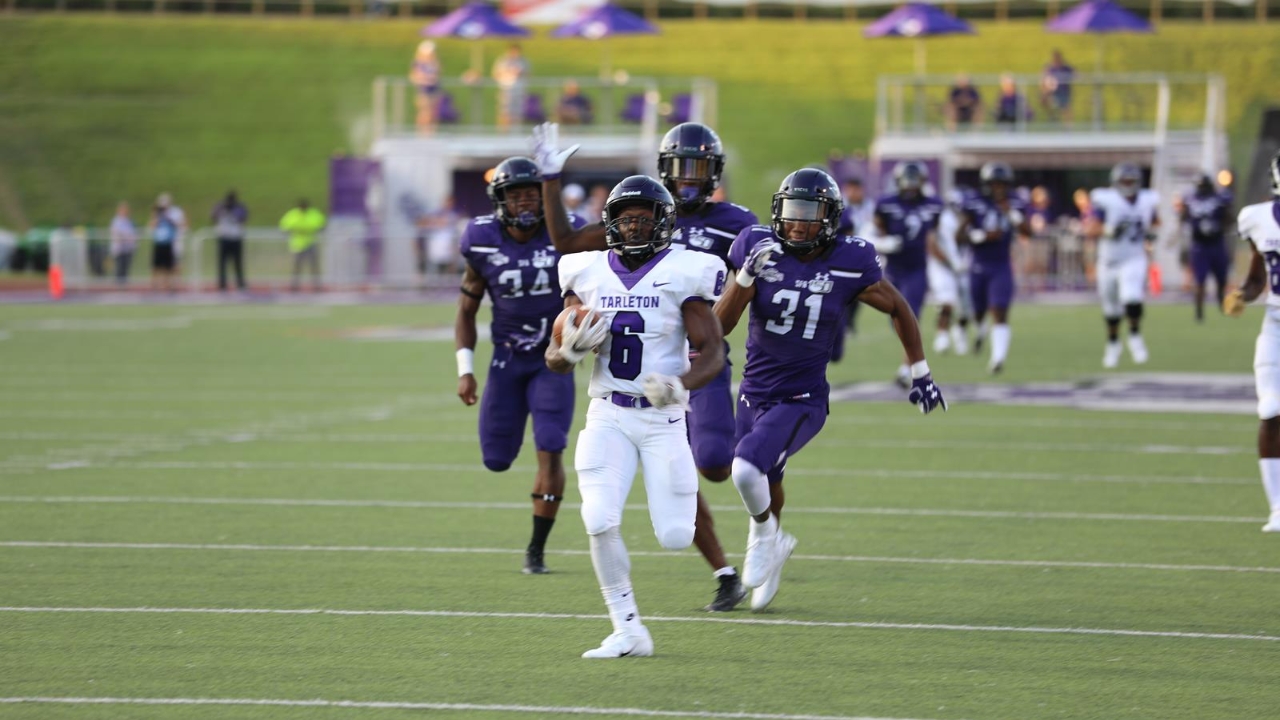 Photo by Tarleton State Athletics
Stephen F. Austin Football
What We Learned: Home opener spoiled by DII foe
September 10, 2019
25,536
---
NACOGDOCHES- Defensive breakdowns and unfortunate offensive ineffectiveness spoiled Colby Carthel's first home game as the sideline general of the SFA Lumberjacks. SFA dropped a 37-26 decision to fifth-ranked Division II powerhouse Tarleton State Texans Saturday night between the high hills of Homer Bryce Stadium.
This marks the third consecutive time in the past two seasons a Carthel-led team lost to Tarleton. The hype surrounding this game was huge because these teams were robbed of a chance to face-off last season due to inclement weather conditions. As a result, this game was built up like a in-state rivalry matchup with SFA having the home advantage. However, Tarleton rolled in from Stephenville and handed Carthel his first home loss of his SFA career.
"Tarleton has some tremendous athletes and I think everybody saw that tonight," Carthel said.
"The quarterback makes them go, he's a very special player and their two outside receivers are almost impossible to defend when they get in a zone. They made some great catches and we didn't do a good job stopping their run game. We knew they had the firepower to do some big things, and we were trying to push them down the field without giving up huge plays, but obviously we failed to do that and gave up some plays we'd love to have back. We didn't learn from some of the little things we failed to execute in our loss at Baylor, and I told the team we have to learn from the simple things because they can come back and haunt us in a close game like tonight. It will hurt tomorrow during film session because we missed alignments, missed assignments and we simply left things out on the field we don't want to make a habit of. Our ultimate goal is to compete for a Southland Conference Championship and we've learned some tough lessons tonight, but this game has no bearing on our goal and we'll regroup throughout the week and come back as a better football team for next Saturday's matchup."
Here's three takeaways from the Lumberjacks' home-opening loss to the Tarleton Texans.
1. Defensive Breakdowns
The SFA defensive unit is a unit that's capable of being one of the best defenses in the Southland Conference, but tonight, they didn't make a case for that title at all. Tarleton, the No. fifth ranked team in Division II, hung 667 total offensive yards on the SFA defense. 372 yards came by air and 295 yards came from the ground. Ben Holmes, quarterback, threw for 372 yards on 23-36 passing attempts with two passing touchdowns, one rushing touchdown and no interceptions. J.F. Thomas, wide receiver, was the greatest beneficiary from Holmes' huge night as he caught seven passes for 193 total yards and crossed the plain twice during the game. Daniel McCants, running back, rushed for 182 yards on 11 carries and totaled 179 yards for the game.
Tarleton possesses an elite offense, but the bulk of their yards came from huge offensive plays that the SFA Defense was caught sleeping on. On the second play of the game, McCants broke down the left sideline for a 48 yard touchdown scamper. Later in the first quarter the Texans were backed into their own end zone on the one-yard line with SFA showing blitz, but the Lumberjacks left the middle of the field open and McCants creeped through the whole and beamed down the field for an untouched 99-yard touchdown run. Late in the second quarter, Holmes hit Thomas for a overhead 63-yard touchdown connection. Holmes was one-on-one with an SFA cornerback and he made one move, bolted up the field, caught the pass and didn't stop until he hit pay dirt.
If you take those three plays away, this game could've possibly been a lot different. The defense made some solid stops during the game and forced Tarleton into two missed field goals, but overall, they let their guard down on those three offensive scores and the outcome of those plays had a huge impact on the game going forward for both teams. SFA can't afford to give away huge plays consistently against their opponents this season because that puts the offense in a bind and forces them to force the issue rather than just running their offense.
2. Offensive miscues
The SFA offense totaled 414 offensive yards on 85 plays. They averaged 4.9 yards per play. Trae Self, quarterback, made a name for himself against Baylor by being patient and making plays with his arms and legs, but against Tarleton, he showed he has a long road ahead of him before he hits his stride.
Self threw for 213 yards on 14-37 passing attempts and was sacked three times. Self completed some great passes throughout the night, but he also made a plethora of bad throws that could've resulted in positive yardage. Self also averaged 5.8 yards per pass attempt and 15.2 yards per completion.
Additionally, the receivers dropped passes that were catchable and the offensive line was overpowered by the Tarleton defensive front for a huge part of this game resulting in Self throwing the ball in different directions and getting sacked due to heavy pressure in the backfield. Self wasn't able to use his legs as much as he's accustomed to because he didn't have much time to drop back and survey the field. Self has a solid arm, but his play tonight proved he doesn't know how to control it yet. As the season progresses he'll gain more experience on how to throw with finesse rather than throwing with straight power all the time. Furthermore, the offensive line will have to learn how to seal their defenders off better at the line which can give Self more time to work in and out of the pocket.
3. Da'Leon Ward's impact
Da'Leon Ward came to SFA by way of Texas Tech University, and his talent was put on full display against Tarleton. Ward rushed for a season-high 149 yards on 28 carries. He also caught two passes for 57 yards and had 57 return yards for a total of 206 all-purpose yards. Ward made plays by using his speed to gain separation on the outside, being patient for his blocks, and using his strength and aggressiveness to break tackles. Ward is an experienced transfer player who can help the Jacks be a consistent unit in the running game. His 28 carries may have been too much, but he averaged 5.3 yards per carry and since he ran the ball effectively he continued to get touches.
Aretavious Hendrix, cornerback, Tamrick Pace, receiver, and other players were inactive for this game and it's no secret their absences was felt, but Carthel had to use what he had.
"It's next man up mentality," Carthel said. "We'd love to have Tabow out there and Tamrick and many others, but their issues are out of our control. Tabow is hurt and Tamrick is ineligible to play. So those are things we just have to wait on, but we had some freshman receivers, corners and other positional players step in and work their tails off all game long and that experience in games like these will help them develop and grow until our core guys return.
SFA will watch film, make their gameplans and practice in preparation for their next matchup. They'll be traveling to the state of Utah to battle with Southern Utah University. Kickoff is set for 7:05 p.m. Saturday, Sept. 14, in Utah.
Never miss the latest news from The Sawmill!
Join our free email list