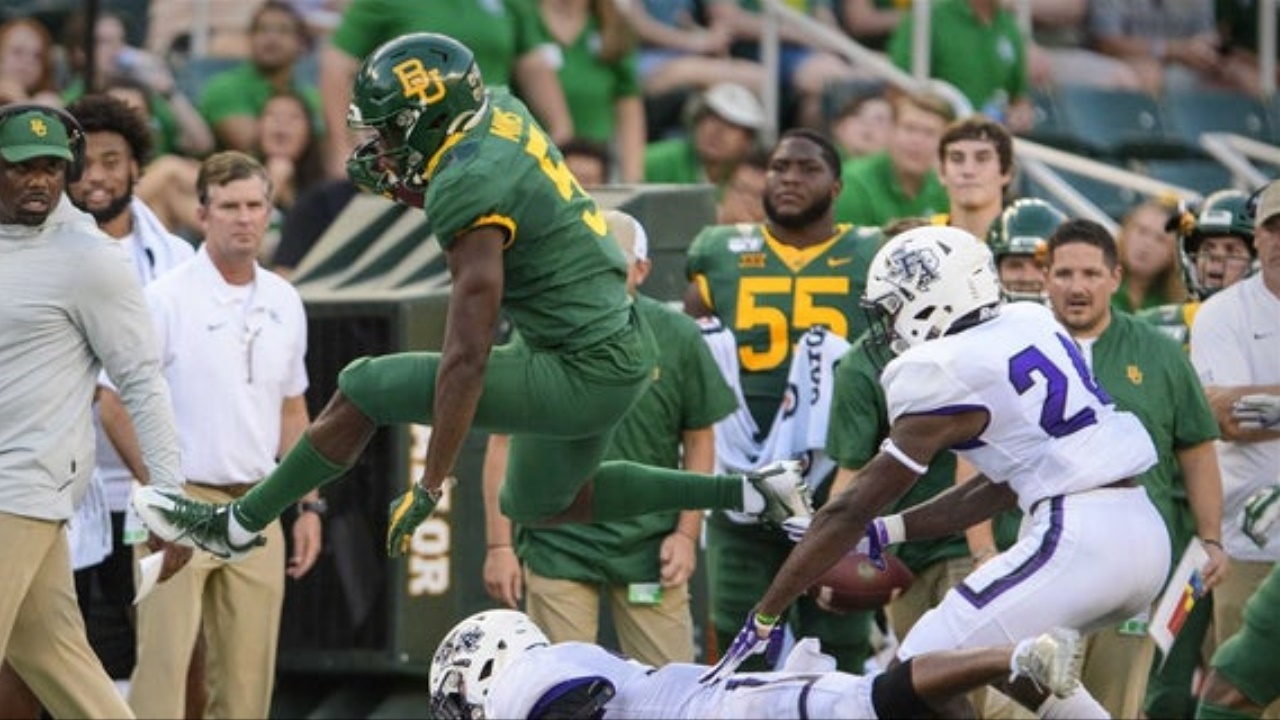 Photo by 247Sports
Stephen F. Austin Football
What We Learned: SFA falls at Baylor
---
WACO, Texas- The SFA Lumberjacks dropped their fourth consecutive season opening game after falling to the Baylor Bears 56-17 Saturday night inside the tumultuous walls of McLane Stadium.
SFA broke their lifelong scoreless streak (201-0) against Baylor after Trae Self, junior quarterback, led the Lumberjacks on a 11-play, 75-yard drive ending with him scrambling and scoring from three yards out late in the first quarter. Self's score secured his first career touchdown as a SFA Lumberjack and the first-ever points scored by an SFA team against Baylor in their 93-year existence. SFA wouldn't score another touchdown until the courtesy of Josh McGowen, running back, after he bullied his way into the end zone from the one-yard line. Meanwhile, Baylor scored 42 of their total 56 points after Self's momentum-changing play.
Losing on opening day has seemed to become a tradition for SFA as they've suffered four straight season opening losses to FBS teams, but this game was slightly different from the other three games in past years. The Lumberjacks trailed by 14 early in the first quarter after giving up two touchdowns to Trestan Ebner. However, they quickly changed the momentum after Self's touchdown and had numerous possessions to cut the lead even more before an eventual Baylor scoring avalanche took the game over. During Baylor's scoring run, SFA never seemed defeated, weakened or showed signs of quitting. They continued to fight through every down all throughout the game and made plays despite the huge deficit.
Here are three takeaways from SFA's learning experience against the Big 12 Conference Baylor Bears:
1. Trae Self can ball
It was no secret Self was a solid quarterback coming out of junior college, but he proved to the world he belongs on a Division 1 NCAA football field. Self made numerous plays throughout the game that will help him improve and become more lethal as the Jacks' season progresses.
During his first game dawning the SFA colors, he threw for 140 yards on 15-29 passing attempts. He added one rushing touchdown and threw on interception in the first half. Self scored the first-ever points in SFA history against Baylor after he scored a three-yard touchdown run off a scramble inside the red zone. His touchdown gave him his first touchdown as the new starting quarterback for the Lumberjacks.
Furthermore, Self showed poise and intelligence in the pocket throughout the game. During the first half, Self was under pressure inside the pocket as he dropped back, despite the heavy pressure Self stepped up in the pocket splitting two defenders and threw a rocket pass to Remi Simmons, junior wide receiver for positive yardage. Self also showed off his throwing power when he hooked up with Xavier Gipson, wide receiver for a 20-plus yard catch during the first as well as using his mobility to extend and make plays outside the pocket. Self made mistakes through the game, but overall, he performed at a level suitable for the position he's in and he put himself in a place where he can easily improve for the next game.
2. The SFA Defense can hang
Baylor's 56 points is a huge misconception towards the SFA defensive unit. Four of Baylor's five scoring possessions in the first half started in SFA territory, which put the SFA defense at a huge disadvantage before the ball was even snapped.
Every defense has their flaws and will give up their share of points, but the mark of a true defense is how they respond after they give up points for the first time. After Baylor scored their first touchdown, the SFA defense caught a glimpse of reality and played up to their competition. Despite being down 14-0 early, the defense continued to dig in and make key stops giving the SFA offense chances to put points on the board. After the offense finally broke through and scored, the defense came back on the field and forced Baylor into a three-and-out late in the first quarter.
During the second quarter the Balor offense proved to be a huge overmatch for the SFA defense, but they made them work for every score, and as the season goes on, the defense will find ways to force turnovers and limit production from the running and passing games. Quin Jones, captain and senior linebacker, led all SFA defenders with 10 tackles and recorded a forced fumble in the second half.
3. Special Teams needs improvement
The special teams unit overall had a poor showing in the season opening game against Baylor. As previously stated, Baylor started their offensive drives inside SFA territory for four of their five scoring possessions in the first half. The punt team had trouble getting the ball off effectively and it put the SFA defense in a impossible position because they had to defend a hot offense with limited space to spare.
Additionally, the return teams had little to no success returning the ball back. SFA will need to clean their special teams plans up quickly because field position is a huge part of the game and can be the difference in a touchdown or a punt. SFA had their moments in special teams with Max Quick averaging 33.5 yards on his seven punts and Storm Ruiz, kicker, going 1-2 on his field goals, but it's plenty more room for improvement in the special teams category.
Overall, the SFA Lumberjacks played in a game they were supposed to lose, but showed many flashes of improvement from last season and glimpses of how good they can be going forward. They'll look to shake this loss off and move on to preparing for their home opener against a Division II powerhouse Tarleton State.
Kickoff is set for 6 p.m. Saturday, Sept. 7, at Homer Bryce Stadium.
Never miss the latest news from The Sawmill!
Join our free email list