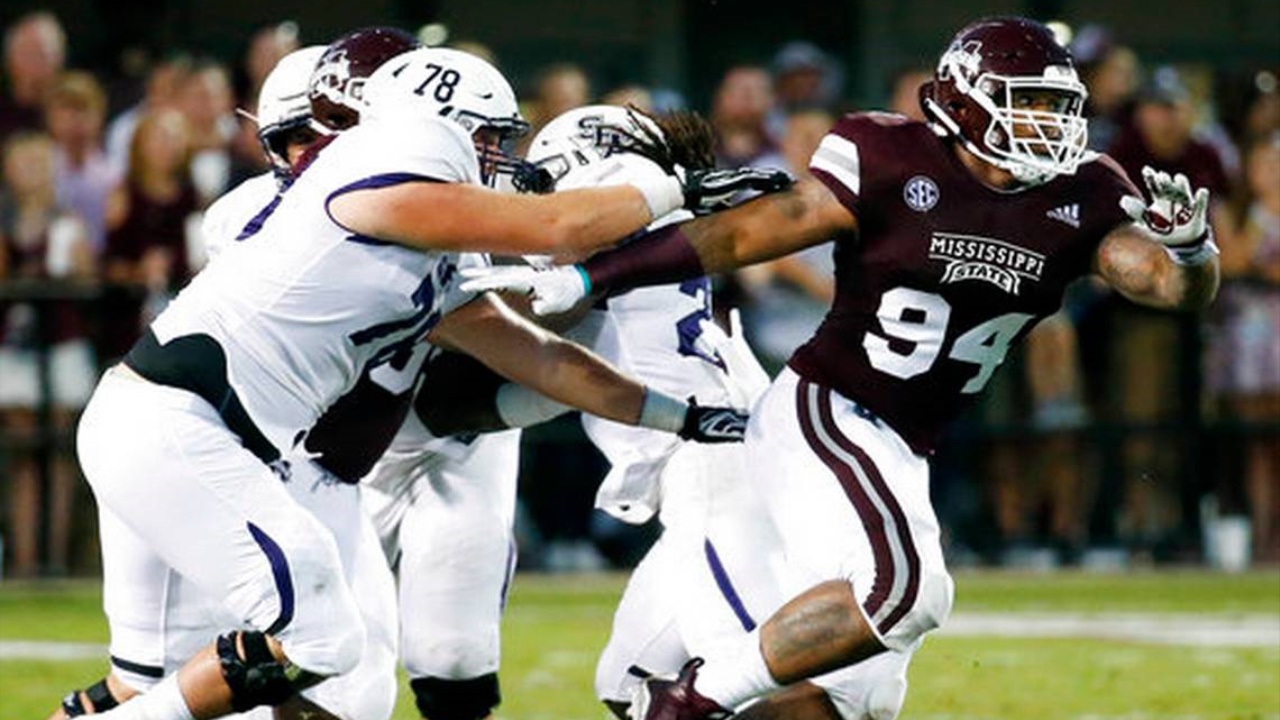 Photo by AP Photo
Stephen F. Austin Football
What We Learned: Stephen F. Austin 6, Mississippi State 63
---
Every year, it's the same story. Hopelessly outmatched, Stephen F. Austin is haplessly pummeled by one of college football's powers in an opener better suited for those who enjoy winning by eight touchdowns on Madden's Rookie mode.
Yes, like a daredevil on the back of a bucking bull, the question isn't whether the Lumberjacks can remain competitive, but it's for how many seconds can they hang on?
And losing by eight touchdowns is no exaggeration, because on a Saturday night in Starkville, that's exactly what happened to the purple and white in interim head coach Jeff Byrd's debut. It was ugly, cringe-worthy, and yet, not unexpected or a cause for great alarm.
The truth is, unless you're playing Kansas, as fellow Southland Conference institution Nicholls discovered this weekend, 63-6 is exactly how this kind of game is supposed to go.
So, no overreactions here except for everything else you'll read in this article.
SFA's offense is a new-look unit indeed -
Before former head coach Clint Conque was suspended and resigned, he jettisoned long-time mentor and prolific offensive mind Gary Crowton from his staff. Conque, who had intended to take over offensive playcalling himself, promised a new-look unit in 2018.
Whether this is Conque's doing or an adjustment made after his departure, co-offensive coordinators Kevin Barbay and Jeremy Moses rolled out a scheme against Mississippi State that looked downright professional.
No, not in execution — with an offensive line so pointedly overmatched that was never going to be a realistic prospect — but it did look like something straight out of an NFL playbook.
Intermediate passing, a rarity in the Crowton offenses, seemed the focus of the air attack, particularly when quarterback Foster Sawyer was under center.
Despite no time to throw, little hitch routes and bubble screens in the face of a blitz made way to deep arching sideline passes and checkdowns to the tight end:
A pass to a tight end? What a concept.
Partly because Hail State was throwing the kitchen sink at SFA quarterbacks all night, the one-on-ones on the outside also created chances for Tamrick Pace to re-establish himself as a premier receiver (don't overlook the beautiful blitz pickup by Dominic Williams on this one): All-in-all, without changing the scheme entirely, the play calling looked refreshingly different, despite the final score.
If Blumrick has to take snaps in meaningful games, SFA is in trouble -
By all accounts, quarterback Jake Blumrick is a great kid and a positive force on SFA's team. His tenure under center last season was mostly a disaster offensively, though, and in a short window of time against State, it looked like the last months have done little to change that outlook.
It isn't that you can't forgive a statistically terrible night against what could easily end up being a top 10 defense in all of college football. SFA's quarterbacks didn't stand a chance and yet, the contrast between both starter Foster Sawyer and x-factor Josh Covey and Blumrick was striking.
Last season, despite a few flashes, Blumrick was indecisive, inaccurate and timid in the face of pressure. While Sawyer was confident and poised, even in a disaster of a game where he completed barely over one third of his passes, Blumrick looked just the opposite.
It's a small and unfair sample size, but paired with a larger one from last season, SFA fans need to hope Sawyer stays upright all year.
The talent gap was only one of many reasons SFA was handled so easily -
Two receivers collided on a third down pass. Two uniform violations forced a burned timeout and a missed snap for a starter. Busted coverages in the defensive secondary gave freebie touchdowns out more readily than a bottom tier fraternity doles out bids. Whiffed tackles from linebackers that looked too shy to invest in contact and wide receivers that cut off routes too early.
Those were all things that had occurred by the time the Lumberjacks put points on the board, already down 21-0. None of those things had to do with the talent gap between the SEC and Southland Conference.
All of them showed a team terrified of the spotlight and unable to handle the stage on national television. It showed a players not yet ready for a big moment.
Maybe that's okay. Nobody is asking the Lumberjacks to win a playoff game next weekend against Tarleton State. This was the opener and first time jitters should be expected, especially in front of the sea of clanging cowbells.
But save a few notable names — Sawyer, Pace, Terian Goree, Teddy Britton — the mental limitations of this team were just as prominent as the physical.
We know almost nothing more than we did two days ago -
SFA is not a blitzing team defensively. Byrd, brought in as a defensive coordinator, found success a season ago by limiting big plays and dropping eight players in coverage.
Against Mississippi State, SFA was blitzing, knowing there was no other chance to get through the massive fortification in front of quarterback Keytaon Thompson. The result was, as we all know, many missed assignments and big plays.
That was far more likely gameplan against a superior opponent, a defensive Hail Mary of sorts, than a legitimate schematic change we'll see beyond this weekend. For that reason, anything, everything, we saw against Mississippi State, including the offense we've already commented on, should be held in suspect until seen elsewhere.
The season started on Saturday night but it doesn't really start just yet. If anything, the Lumberjacks scored a massive win on ESPNU by avoiding a catastrophic injury.
For that, despite the final score, we can be thankful.
Never miss the latest news from The Sawmill!
Join our free email list