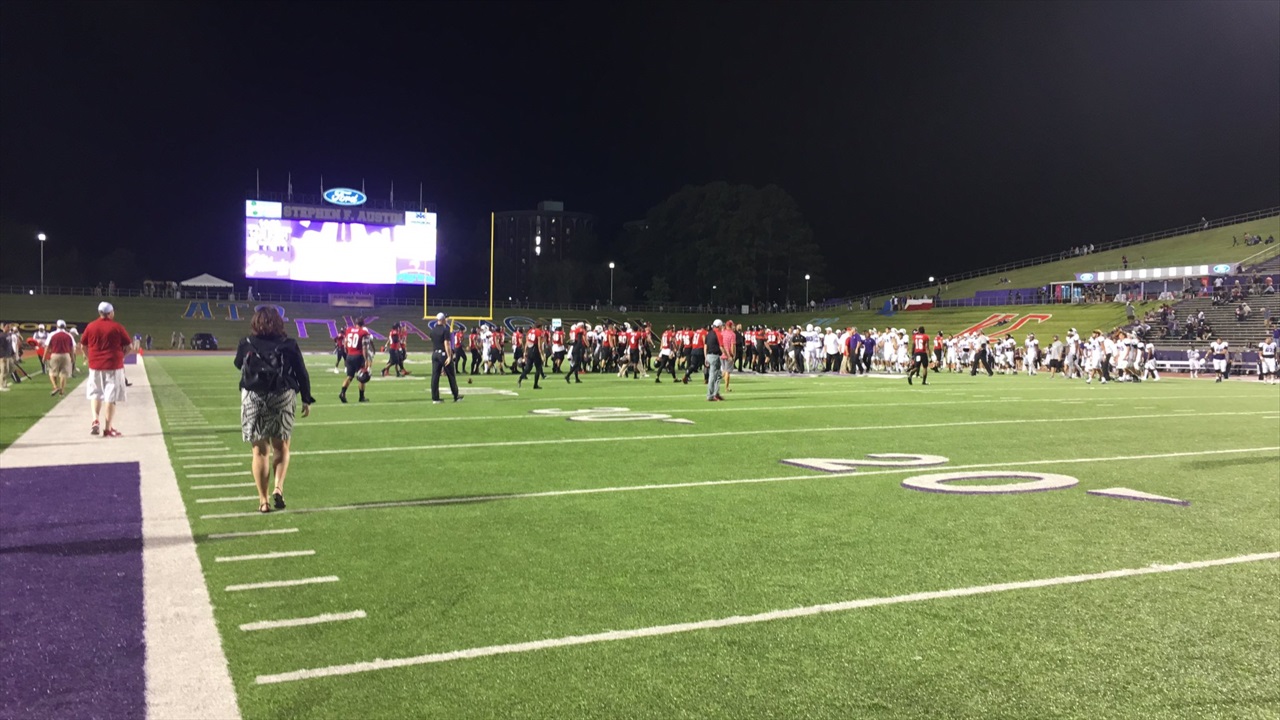 Photo by Ryan Miller - The Spectrum
Stephen F. Austin Football
What We Learned: A crazy three sport weekend at Stephen F. Austin
---
It's been awhile since Stephen F. Austin had a weekend like this past one. College basketball returned across the nation and while the Ladyjacks couldn't pull off an upset in Kansas, the Lumberjacks took care of business in Virginia. Volleyball handled Lamar to outright claim SFA's first conference championship of the 2017-18 sports season but football couldn't stop the physical running game of #17 Nicholls on the way to a defeat in the final game of the year at Homer Bryce Stadium.
Whew. That's a lot to unpack.
Let's begin in our special three sports, four team edition of What We Learned:
The Southland Conference football preseason poll was very, very accurate -
Nobody puts stock into preseason selections. They're hasty, often lazy, and accomplish little more than providing material for folks like myself to talk about. So, while my predictions are usually no better, I'll never not use an excuse to bash a poll.
This, perhaps, being the exception.
Despite some 'Jacks promise in recent weeks, a convincing victory from Nicholls over SFA establishes with some credibility that the Lumberjacks are, in fact, the 6th best team in the Southland Conference. That's right where they were picked. In fact, if you look at the overall preseason rankings, reverse a handful of outliers, it's about as accurate as any I've seen before ever.
We know who the Lumberjacks are with a week to go in the season. They're sitting perfectly directly in the middle of the pack. They're not a good team and they don't suck. They just are.
Expectations will obviously be much higher in 2018 and they should be. Houston Baptist as the exception, returning talent was a direct indicator of team success across the Southland Conference in 2017. SFA, with the vast majority of key contributors back on the sidelines, should be among them in a year.
Overreaction of the day: Kevon Harris might be to Kyle Keller what Thomas Walkup was to Brad Underwood -
I know what you're thinking but just bear with me for a minute. Physically they aren't as different as you think.
Thomas Walkup made his living in college as a matchup nightmare. More than a high motor player, he was too big for defensive guards and far too nimble for bigs. He was that perfect guard-forward combo that never saw a bad matchup.
That's not unlike what Kevon Harris has potential to become. In fact, as a freshman, albeit on a team with less experienced talent, Harris outpaced Walkup statistically almost 2-to-1. As a sophomore, Walkup posted a line of 13.1 points, 5.3 rebounds, and 2.1 assists. After Harris' 23 point, 12 rebound, 1 assist opener at Longwood, does anyone not think he could match that this season?
Yes, it's a crazy overreaction. Harris has played exactly one game as a sophomore, one season after a limited freshman role. Expectations stemming from a direct comparison to the greatest player in program history are, at best, unfair.
But here we are making them anyway. Harris, perhaps the better athlete of the two, has a ceiling as high as any player ever has in an SFA uniform. Drag me for saying it, I don't care.
Losing aside, the Ladyjacks' offensive output at Kansas State was a disappointment -
The gap between mid-major and Power 5 is probably more distinct in the ranks of women's basketball than in almost any other sport in the NCAA. And yet, SFA should be generally disappointed in what happened up in Manhattan, Kansas on Friday.
It isn't that the Ladyjacks lost the game. Barring a shocking upset, we mostly expected they probably wouldn't hang with a Kansas State team that won 23 games (and a first round matchup in the NCAA Tournament) a year ago. What we hoped was a preview of an offense that is supposed to carry this team most of the season.
Instead, shooting just 26.6% from the field, the Ladyjacks couldn't crack 50 points in their 74 to 49 loss. Three point shooting, maybe the biggest strength on this entire roster, yielded only four scores on 23 attempts. Stevi Parker, SFA's leading scorer in the game, scored just 9 points, converting just three of her 12 attempts from the floor.
Obviously, quality of competition has something to do with it. The Ladyjacks won't face a defense like Kansas State's again - but in the spirit of overreactions from a small sample size, it's not unfair to be disappointed in how they lost on Friday afternoon.
Debbie Humphries is due for another trip to the NCAA Tournament -
There's no denying the leader of SFA Volleyball for the past 30 years is a freaking legend. Humphries has claimed championships in basically a third of all of her seasons, clinching number nine with a sweep of Lamar in Shelton Gym this weekend.
It's so uncommon for a first time head coach, starting young enough to be a player, to stick with one job after the kind of success Humphries has had in Nacogdoches. When it happens, fans should appreciate it. Loyalty is not a common trait in the world of college sports and despite being among the most respected in college volleyball anywhere in the country, Humphries remains a constant in the storied SFA volleyball program.
If there has been one difficulty, along with most other Ladyjacks programs of late, it's been finishing the fast-paced environment of the Southland Conference Tournament. SFA Volleyball has not seen the NCAA Tournament since 2006 but they're due.
If Humphries has captured titles in a third of her seasons, she's gone on to the NCAA Tournament in half of that third. With title number nine in 2017, she's due to dance for that fifth time.
Well, this time or next. We'll be hoping for sooner rather than later.
The growth of Aaron Augustin is as advertised -
Coaches have raved about the Lumberjacks' sophomore point guard for most of the offseason. Last weekend on our Purple Lights Podcast, head coach Kyle Keller explained that Augustin has had a work ethic unmatched since what was a mildly disappointing freshman season.
Without the services of freshman Cameron Mack, who for the moment is no longer a part of the SFA basketball program, it was even more vital that Augustin show growth. On Saturday at Longwood, he did.
Augustin wasn't perfect by any means, but he combined his top-notch defense with very competent point guard skills. He dished, he scored, and he operated most notably with speed unlike anything we saw from him a year ago. The entire unit appeared much faster and Augustin was the primary reason for it.
Kevon Harris, Shannon Bogues, TJ Holyfield and a handful of others may get the gaudy stats and accolades this season. The selfless play of Augustin, although it will probably go under the radar at times, will be the reason they have that opportunity.
SFA has their point guard. It might not be who we thought it would be but it doesn't appear that it's a bad thing.
Nicholls showed what a great offensive line can do for an otherwise unspectacular football team -
The Colonels of Nicholls have been very good this year. In general, they've been the more physical team in every matchup of the year. On Saturday at Homer Bryce Stadium, we got a first hand look at it.
They're not the most talented from a skill position standpoint. In that regard, I think SFA is probably a better team. Quarterback Chase Forecade is good but he's not great.
The offensive and defensive lines? Those are great. That's the reason Nicholls is the biggest surprise of the 2017 season in the Southland Conference. In the trenches, they're huge, and they don't lose battles.
Head coach Clint Conque admitted as much after the game. He particularly noted that these players weren't all that when recruited to Nicholls. With an excellent nutrition and weight program, Nicholls' has created their impressive lines on both ends of the ball from players who lacked their current size when they arrived.
Maybe the Nicholls formula is something others, including SFA, can learn from. It was certainly impressive to watch in person.
Don't give up on Ivan Canete just yet. His game might not have been as bad as it looked -
One of the biggest concerns on the Lumberjacks roster has been leadership in the absence of Ty Charles. There have been some character issues in the offseason and coaches can only do so much to address personnel issues that need peer-to-peer attention.
Despite an unimpressive stat line when senior Ivan Canete fouled out of the game on Saturday (zero points on zero attempts, five fouls, one rebound in 11 minutes), he was a positive factor according to his head coach. "He was actually fantastic," Kyle Keller told The Sawmill shortly after the game ended. "Such a great attitude and a calming influence on the bench."
He'll need to produce a little bit more as the season goes on for a team that lacks consistent outside shooting aside from the transfer from Palm Beach State College. For now, though, you can consider his coaching staff unfazed by the dud of a game he had on Saturday.
Never miss the latest news from The Sawmill!
Join our free email list