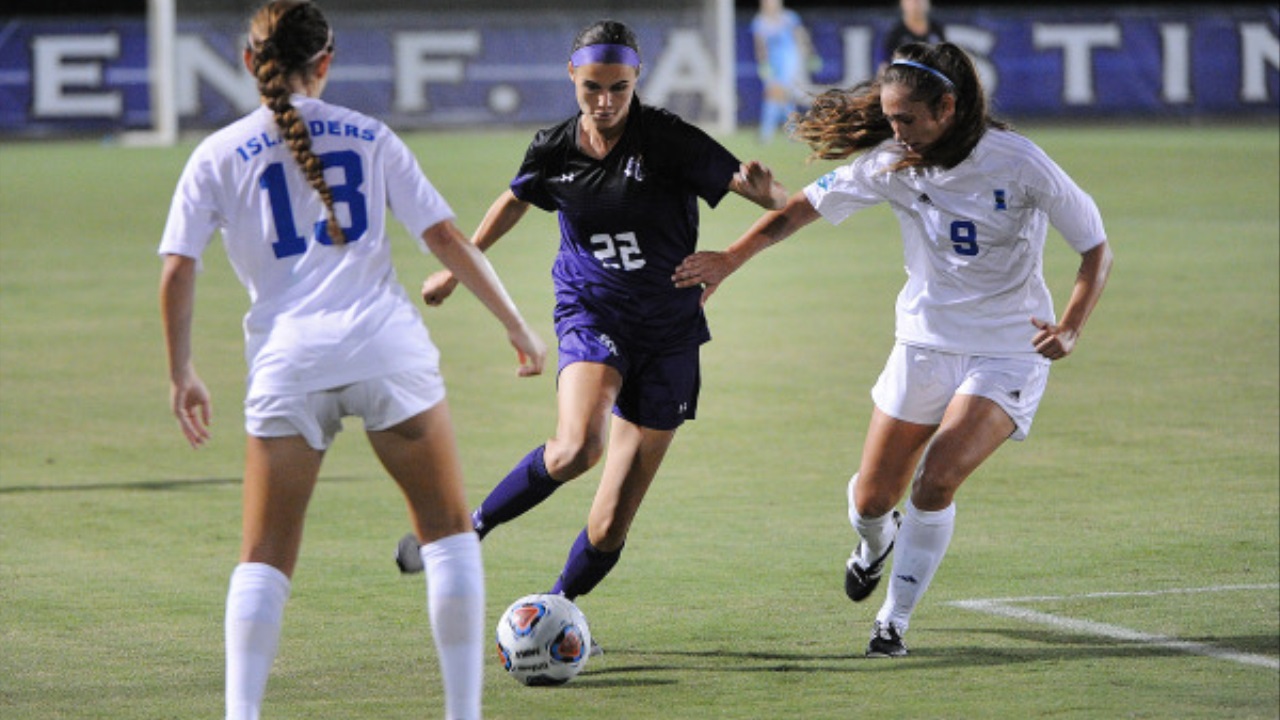 Photo by SFA Athletics
Stephen F. Austin Football
This Week at SFA: Scores, News & Notes for August 30th
---
(Editor's Note: An earlier version of this article stated that SMU had officially announced Ben Hicks as the starter. While it is reported that they have reached a decision, their depth chart actually noted all three quarterbacks as potential starters against SFA.)


The fall semester at SFA is officially underway. The class of 2021 is shuffling to class for the first times and there are a mere three days until the Lumberjacks kickoff the football season at SMU. As rain continues to descend on Nacogdoches, let's take a look around campus across a variety of sports and see what the big stories are headed into the weekend:
Soccer will have to wait until Sunday to debut in Nacogdoches -
Ladyjacks soccer coach Wally Crittenden is very confident in this 2017 group. For the first time in years, SFA did not enter the regular season as the favorites to win a title - but internally, it seems there will be some disappointment if they do not.
Unfortunately, the Ladyjacks got off to a slow start in the non-conference season dropping their opener at Mississippi State. Crittenden promised an exciting style of play for his 2017 team, with no shortage of scoring ability. At least in that first game, the team was unable to capitalize on those point-earning opportunities against an excellent MSU unit.

"They had one moment where they capitalized on an uncharacteristic final third miscue by us, and it was a very good shot and finish to score," Crittenden said after the game in the university's official release. "You never like to see that happen, but there's a lot of soccer to be played, and everything I saw tonight from our group was overwhelmingly positive, so I know that out best days are ahead of us."
A few days later, SFA suffered a second setback - this time in the form of a late penalty kick that sank the Ladyjacks at Southern Miss. After twice taking the lead and twice allowing the Golden Eagles to tie - the last time at 2-2 - SFA was penalized in the 88th minute and Southern Miss awarded the penalty kick.
The kick was converted and the Ladyjacks dropped to 0-2.

Finally, on Thursday, SFA broke through. A game that was moved up a day with Hurricane Harvey on the minds of many, ended with a Ladyjacks victory over Texas-San Antonio after two second-half goals (including freshman Katelyn Termini's first as a collegiate athlete).
SFA will not play their scheduled game on Friday against Texas Southern as mother nature has officially cancelled it. Instead, the Ladyjacks will wait to make their debut at home when they return to action on Sunday in Nacogdoches for their home opener.
SMU will likely start Ben Hicks on Saturday; SFA officially announces the same for Jake Blumrick -
There was little doubt that it would be a Hicks versus Blumrick battle on Saturday, but it now appears SMU has made a decision. The depth chart, released yesterday, still lists three signal callers as potential starters but there appears to be little other than gamesmanship in that decision.

Ben Hicks, the signal caller who started a year ago as a redshirt freshman after Matt Davis went down in the season opener, will get the nod on Saturday against the Lumberjacks (barring a surprise.)
For SFA, the quarterback battle between Jake Blumrick and Ryan Cottingame to start in the absence of an injured Foster Sawyer has also been settled. Blumrick, the redshirt sophomore from Pearland has attempted a total of two passes in his collegiate career but has had a strong camp and represents a true dual threat behind a questionable offensive line. He'll get the nod on Saturday.
Men's basketball finally has the whole crew on campus -
While some Division I programs were playing friendly matches in Canada this summer, SFA was practicing with just five available players.

They're not all healthy enough to practice, but at least some semblance of a full squad is back in Nacogdoches and on campus this week.

Isaac Likekele is scheduled to visit Nacogdoches on September 2nd and intends to make a decision on a commitment by the end of that month or early October. Likekele was a key playmaker and part of Mansfield Timberlands state championship run this past spring and he holds offers from Wyoming, UT-Arlington, Utah State, Fresno State, Northern Iowa, Central Michigan, St. Louis, Texas State, Oral Roberts and SFA.
That would be another big get to fill the final void on SFA's 2018 roster. Do not be surprised, however, if head coach Kyle Keller over signs on this class.

Volleyball has returned to SFA but you'll have to wait to see them in Nac -
Debbie Humphreys, the most storied active coach in any sport at SFA, has her squad off to a 2-1 start after winning a duo of contests during the Stetson Inviational in Deland, Florida. After dropping their opener by a lopsided three sets to none, the Ladyjacks rebounded with two 3-1 victories over Central Connecticut State and the host Stetson.
The Ladyjacks were picked second in the preseason poll behind Texas A&M-Corpus Christi and one position ahead of Sam Houston State. They'll have another opportunity to build momentum heading into the conference season when they face Louisiana-Monroe later today. You can listen to live radio coverage right here at SFAVolleyblog.net.
You'll have to wait a bit (unless you want to travel) if you want to catch this bunch in action, though. The Ladyjacks will not make their Shelton Gym debut until September 8th when they host Texas Southern at 1:30 in the afternoon.
Cross Country debuts this weekend in College Station -
A big part of SFA's quest for a fourth-straight Southland Conference commissioner's cup, the Cross Country teams will make their season debut on September 1st in College Station for the Aggie Opener. Although it will be an abbreviated squad this weekend, the majority of the team will compete on September 16th in Abilene for the Southland Conference Preview event.

Both men's and women's teams lost a lot of talent but should still be considered contenders in the Southland Conference this year and could be a big part of a potential big haul of hardware for SFA teams across the board this year.
Although the spectator value may not be as strong in Cross Country, don't overlook the importance in the bigger picture this year. The Lumberjacks and Ladyjacks both need strong showings for the all-sport picture in the SLC.

Never miss the latest news from The Sawmill!
Join our free email list