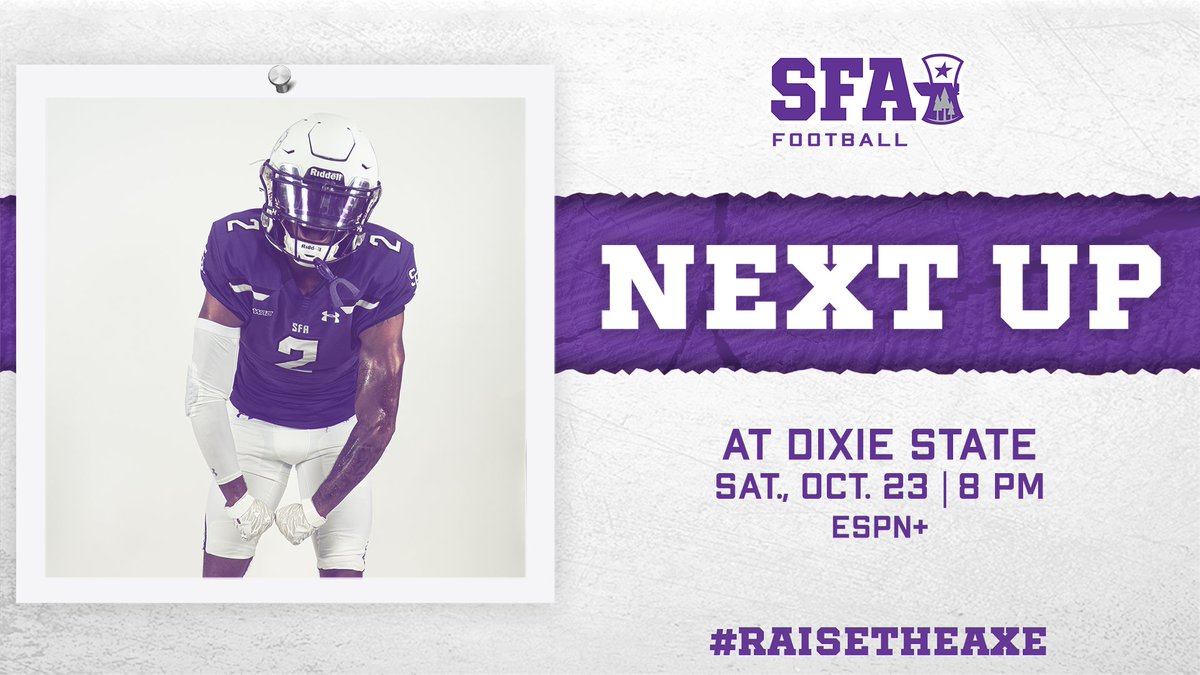 (RV) STEPHEN F. AUSTIN STATE (3-3; 1-1) VS. DIXIE STATE (0-6; 0-1)WHEN: OCT. 23 (SAT.) 8:00 P.M.WHERE: ST. GEORGE, UTAH (GREATER ZION STADIUM)TV: WAC DIGITAL NETWORKRADIO: Q107.7
After a well deserved week off to regroup and heal some wounds the Lumberjacks of SFA are for a lack of a better word ticked off on how things have been going down lately and they need to take it out on somebody.
So, welcome in the 0-6 (0-9 from last season) Trailblazers of Dixie State, who host SFA this Saturday on their Homecoming Weekend in St. George, Utah.
DSU and their 75 freshmen (only 9 seniors) have been put to the fire this season against an impressive 11 game slate that features, count them seven ranked opponents. With the exception of the season opener against Sac. State, none of these contests have been close, with Dixie State losing by an average of almost 30 points a game.
DSU is lead by Sophomore QB #12
KENYON OBLAD
6-3; 190 out of Henderson, Nevada who has completed 82 passes for 878 yards and 5 TDs along with 10 INTs. Also look for red shirt freshman #16
KOBE TRACEY
6-4; 190 out of Chubbuck, Idaho to also get some reps, as he has completed 30 passes for 279 yards and 1 TD.
At receiver, Arizona State transfer #5
KEITH DAVIS
6-1; 190 has been the go to man, leading the team in receiving yards (235), his best game coming last Saturday against Tarleton State with 5 catches for 77 yards.
Overall DSU's best offensive threat looks to be senior RB #2
DREW KANNELY-ROBLES
6-0; 200, who has rushed for 258 yards with 2 TDs and leads the team in receptions (20) for 173 yards.
On defense the Trailblazers are lead by redshirt freshman #17
TYRELL GRAYSON
6-0; 175 who leads the team in tackles (66) along with 3.0 TFL 2 FF and 3 PBU.
Consider SFA just another one of those highly ranked teams that DSU has waiting for them on their gauntlet from hell, as you could say the Lumberjacks are just less than a handful of plays away from being 6-0 and a Top 5 team, playing for it all.
Axe'Em