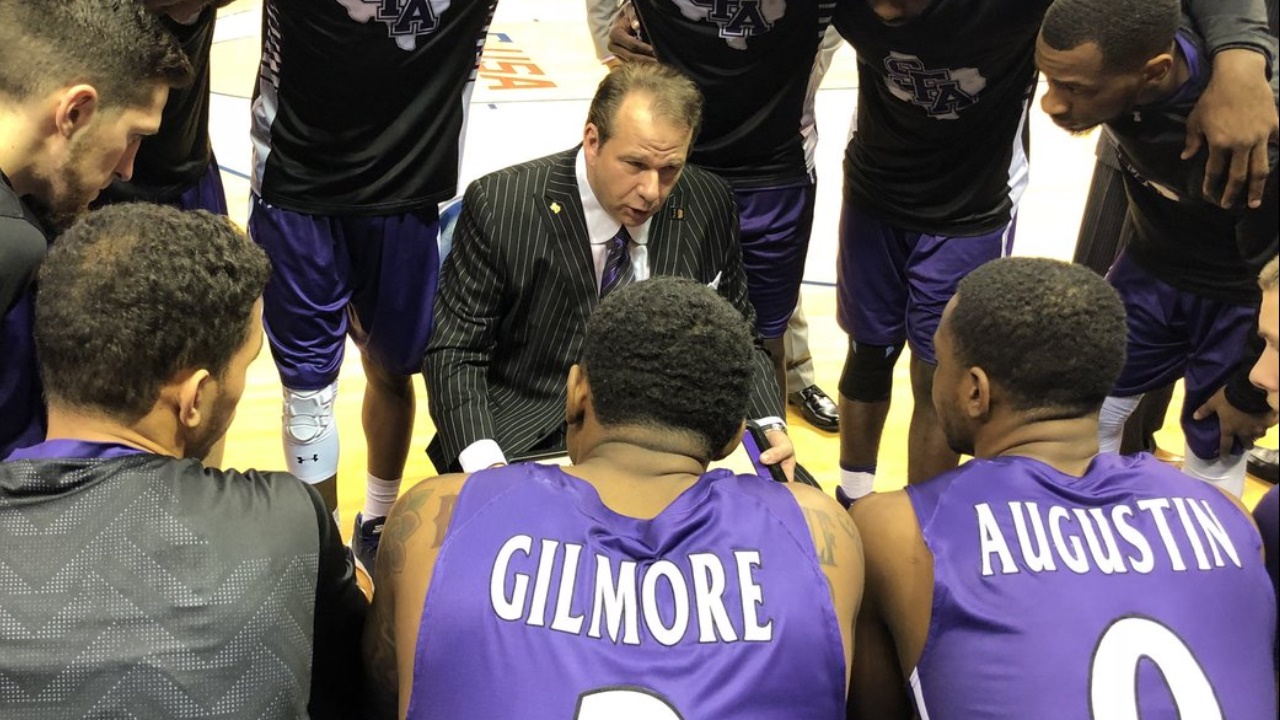 Photo by SFA Athletics
Stephen F. Austin Basketball
Stephen F. Austin isn't just happy to be here. That's why they're dangerous.
---
As confetti descended on the floor of the Leonard E. Merrell Center in Katy, Texas — home of the Southland Conference Tournament — Stephen F. Austin head coach Kyle Keller was emotional.
In his postgame interview on the ESPN set, Keller tipped his cap to SFA's retiring athletic director Robert Hill. "God put us together," he said, fighting back tears. "I wouldn't be here without him."
To an outsider not familiar with Keller or the Lumberjacks program, it may have almost seemed like watching a fledgling mid-major achieve the ultimate aspiration.
But that's far from accurate.
Yes, there was a sense of relief. For Keller, the SFA job was a big challenge — mounting expectations, standing in a shadow of a predecessor that timed his departure with the graduation of key players, and Hill's dream of a building a national basketball brand — all while fans expected immediate results. Keller promised immediate results, after all. To return to the Big Dance was a validation of the 24 month journey back.
Hill is a dreamer but so is Keller.
While any other Southland Conference program would revel in the opportunity to share the floor on the biggest stage of college athletics, a last-second tip-in that spoiled a Lumberjacks trip to the Sweet 16 in 2016 has left the entire community searching for more.
Keller's shared vision of wanting more — expecting more, even — made him Hill's perfect hire after Brad Underwood departed for Oklahoma State.
"I really don't care who we play," Keller told reporters after their conference tournament championship win over Southeastern Louisiana. "We're not changing. We're going to be who we are and somebody is going to have to adjust to us."
Keller has said from the beginning that the real NCAA Tournament starts the second weekend, and getting there, being one of the final 16 teams in the field, is the new ambition that is driving SFA to recruit better and dream bigger.
It has resonated with players, new and old. "[Keller] has talked about wanting to coach the best team," junior forward TJ Holyfield said on Saturday. "In order for us to be that, we need to win a certain amount of games in the tournament."
"I got my first ring but I'm not satisfied," sophomore Kevon Harris echoed. "We still got more to do."
A tough draw, a 14-seed against 3-seeded Texas Tech won't make the path easy in 2018. This may not be the year Keller's fantasy, and Hill's, in his final year at the helm of SFA athletics, comes to fruition. But nobody in the offices of William R. Johnson Coliseum is content to just be there.
That feeling is so 2009 — the year Danny Kaspar finally broke through and landed the Lumberjacks in the Big Dance for the first time in program history — or even 2014, the year Brad Underwood recorded SFA's first victory there as a 12-seed in an overtime thriller against VCU.
Now, it's about paving new roads. And one part of Keller's fantasy has already come true, actually. "I had this dream this year," he said in his postgame press conference on Saturday. "That we would play in Dallas and somehow we would win two games. And the streets would be lined, just like Hoosiers, driving back to Nacogdoches."
Less than 24 hours later, Stephen F. Austin was paired with Texas Tech in the Round of 64.
In Dallas.
Never miss the latest news from The Sawmill!
Join our free email list