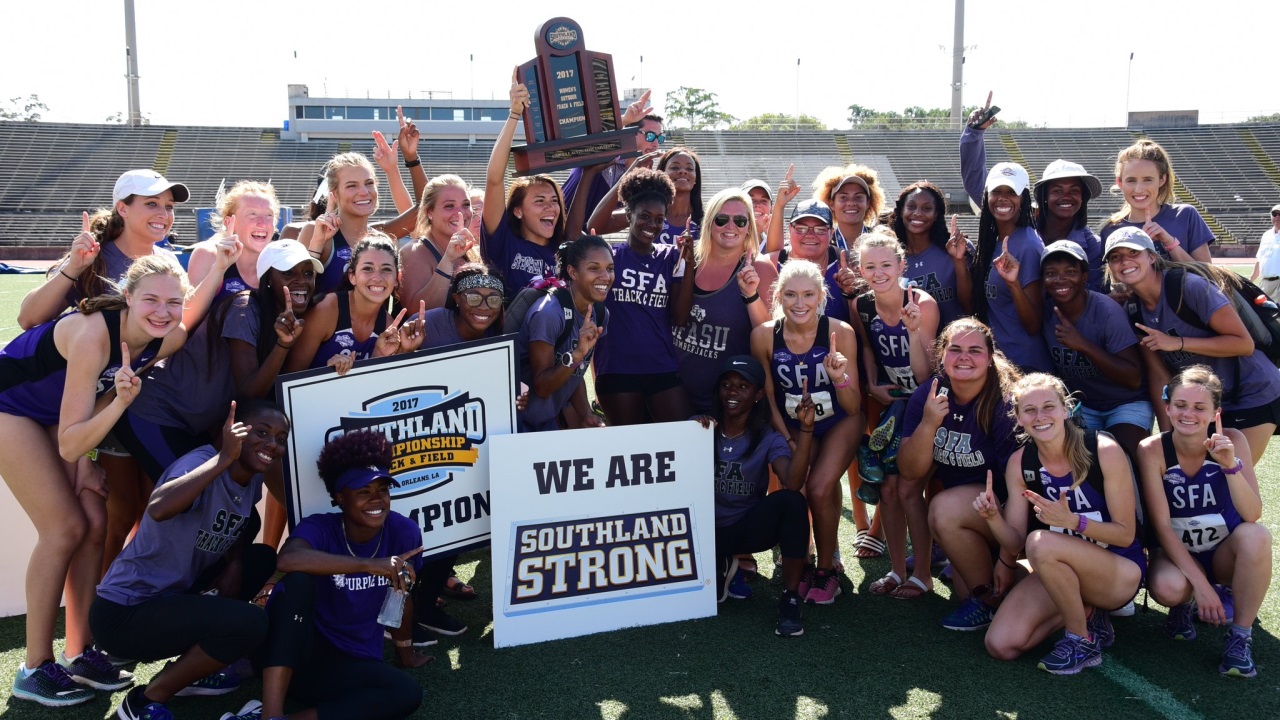 Photo by SFA Athletics
Stephen F. Austin Baseball
SHSU chokes, SFA clinches third-straight Commissioner's Cup
---
What. A. Week.
You might have watched John Wall's heroics or James Harden's collapse.
Joey Gallo gifted a few thousand Rangers fans with free Chick-fil-A
and the Astros asserted their spot as the way-too-early best team in the American League with a convincing series win in New York. Also on the sports front, former acting attorney general Sally Yates stole headlines with testimony in front of a senate committee on Monday a day before President Donald Trump stole them back by firing FBI Director James Comey.
Oh yeah, and it was final exams week at universities around the state of Texas.
Concealed by the deafening noise of the 24/7 news cycle, Stephen F. Austin quietly clinched a third-straight all-sports title in the Southland Conference. After the outdoor Track & Field championships ended and SFA baseball fell three-straight times to Lamar, the window was open for the Bearkats (albeit barely) to make a Commissioner's Cup comeback.
The magic number was one. One Sam Houston State loss in the lone remaining sport (baseball) with a week to go would clinch the all-sport title for SFA. A single Lumberjacks' victory would do the same. There were a few other things that had to break right for the Kats, too, namely a sweep of McNeese by Lamar.
With the purple team from Nacogdoches limping to the finish line, just 1-9 in Southland Conference games since beating #4 TCU three weeks ago, Sam Houston State faced Houston Baptist in the finale of their weekend series for the outright third-place spot in the league standings. Houston Baptist delivered the knockout punch.
If you enjoy Bearkat tears (like you know I do), here's the exact moment SFA clinches the 2017 (and third-straight) Southland Conference Commissioner's Cup:
The Ladyjacks ran away late with the outdoor Track & Field title (to quickly erase memories of a disappointing showing in the indoor championships this past winter), while the men posted a runner-up.
For now, even in spite of the difficult baseball sweep at the hands of Lamar, it was a good weekend for SFA Athletics. Under the leadership of Robert Hill, the Lumberjacks have perennially boasted the most complete and competitive department in the Southland Conference of late.
A new year has done nothing to change that.
Never miss the latest news from The Sawmill!
Join our free email list