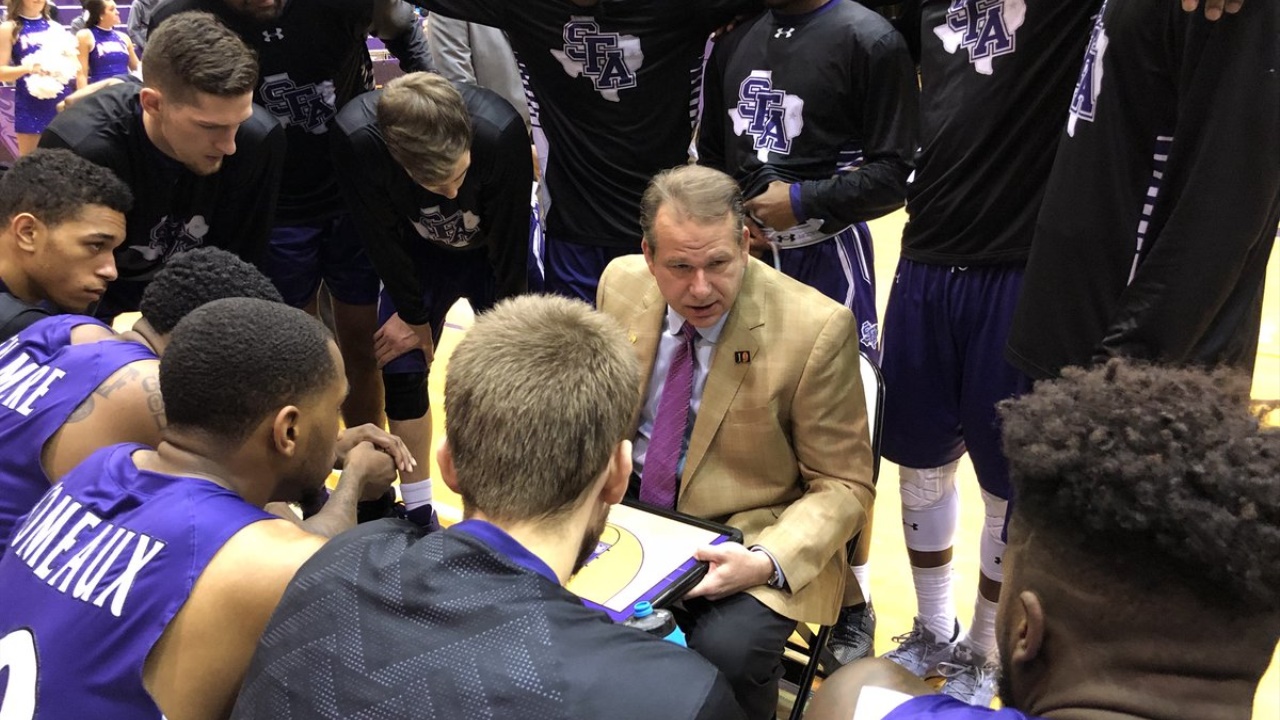 Photo by SFA Athletics
Stephen F. Austin Basketball
Reaction to Keller's 'millennials' comment a showcase in lazy journalism
---
Stephen F. Austin battled Texas Tech in the opening round of the NCAA Tournament in a contest ESPN's BPI predictor gave the Lumberjacks just a 10% chance of victory in.
That was hardly how it played out, with SFA leading the Red Raiders from start to nearly finish, blowing a late lead before bowing out of the Big Dance with a final score of 70-60.
Those familiar with Lumberjacks' head coach Kyle Keller weren't surprised by his candid demeanor after the game, talking about a number of topics that ranged from SFA's deficit in points scored in the paint to — yes — millennials.
It started with USA Today. Without context, the publication ran the headline: "Stephen F. Austin coach: Millennials 'don't even watch college basketball.'"
That's fine. There was nothing blatantly false in the article, even if a different meaning was certainly suggested. The problem in sports journalism is — and, full disclosure, I've been there too in past gigs working for mass content producers — nobody ever goes to the source.
In pure telephone game fashion, quotes from quotes from quotes, each time getting smaller, each time losing more context, spread throughout the internet like a California wildfire.
Suddenly, this morning, it was everywhere.
The Big Lead: Stephen F. Austin Coughs Up Late Lead, Coach Seems to Somehow Blame Millennials
SBNation: Stephen F. Austin's coach somehow blames NCAA tournament loss on millennials (and quietly changed their headline without a correction after being called out)
CBS Sports: Stephen F. Austin's coach went on a wild rant about millennials and green beans
SEC Country: Stephen F. Austin coach Kyle Keller considers millennials threat to college basketball: 'They don't even watch'
Washington Post: Stephen F. Austin coach says his college basketball team has too many millennials
Even Golf Digest, and Total Frat Move got involved with headlines like "Coach goes peak "old man yelling at sky" by blaming March Madness loss on Millennials."
What's the problem? None of that is true.
Not only did Kyle Keller not blame the loss on "millennials," his comments were actually an obvious compliment to his players for not being intimidated by the long odds they faced as an upset-minded 14 seed.
Let's review. This was the question asked:
"Do you guys feel like you really were able — Texas Tech is a 3 seed. You were really able to play with them and maybe were a little under seeded?"
Kyle Keller replied, in true Keller fashion, with this:
"I don't know. There's 68 teams in the tournament seeding that to me doesn't have anything to do with it. I coached the No. 1 seed in the tournament. We didn't make the Final Four. So to me seeds don't matter.
When the game starts, the game starts. And that's what we try to convince our kids. Our kids didn't — they got to play against some dudes they knew. Ty [Charles] knew some guys on their team. And the millenials today, they don't even watch college basketball. A lot of our guys didn't even know who those cats were because they don't watch the game."
Internet journalism is full of pressure to inspire clicks. Without malicious intent, falsities are frequent, because (with some exceptions) the lines have been so heavily blurred in our industry between journalism and blogging.
Journalists do not publish second-hand quotes for this exact reason. Unless you can find the source and determine meaning from context, you are likely to inspire a mess like we're seeing today.
Bloggers don't care. Whatever is on the internet is fair game, context, meaning or not. As long as there's a catchy headline to attract clicks (and therefore advertising revenue) accuracy and fairness is hardly a priority.
Chalk this one up, once again, to the fine work of internet sports media. At least it's a fine example for journalism ethics professors, perhaps, at the universities where these writers probably never attended.
If you have to invent a narrative to make your story clickable, you should probably find a new line of work.
Never miss the latest news from The Sawmill!
Join our free email list