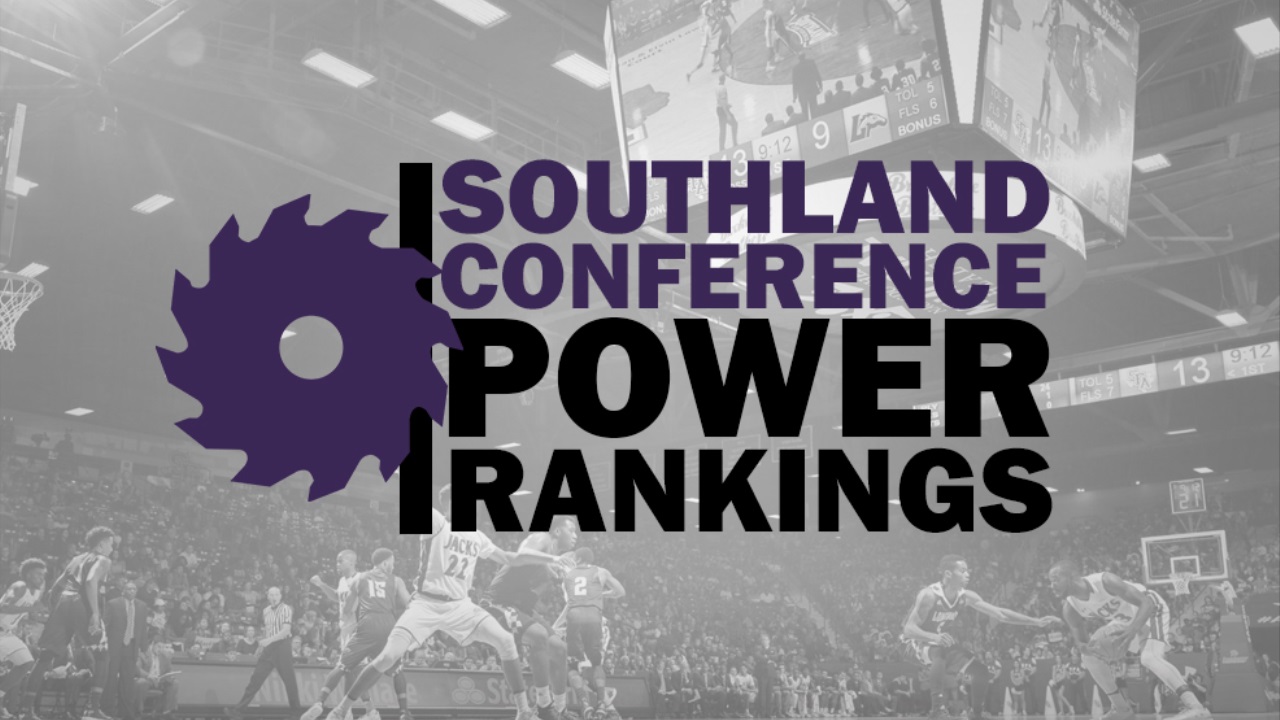 Photo by -
Stephen F. Austin Basketball
MBB: Southland Conference Power Rankings - Week 8
---
For the first time this season, I didn't have to make many changes to this week's Power Rankings. No upsets in the top of the standings just means that the race for the Southland Conference title gets tighter.
Next week, I won't be able to say the same thing. This will be the biggest week of the season for the league thus far.
---
1. Nicholls
2017-18 record: 16-9 (10-2) | Last week: 1 -
The Colonels had a tough test last week when they traveled to Abilene, but prevailed and were rewarded with a weekend game vs HBU. Next week won't be as kind, they get Sam Houston at home then travel to Conway, Arkansas.
2. Southeastern Louisiana
2017-18 record: 16-10 (10-3) | Last week: 2 -
Fairly light schedule for the Lions last week. Easy work made of UIW, and then a closer game at McNeese State. Huge week for SLU, facing off against UNO and ACU. Luckily for them, they get both at home.
3. Stephen F. Austin
2017-18 record: 20-5 (9-3) | Last week: 3 -
The Lumberjacks exorcised some Demons last week (I know, bad pun). A weird game at McNeese, and then a 97-50 drubbing of Northwestern State. SFA travels to always tough Corpus Christi this week, before a trip to UIW. Three straight road wins would be a huge momentum push for the 'Jacks.
4. Sam Houston State
2017-18 record: 16-10 (10-3) | Last week: 4 -
The Bearkats won both games last week by a combined 4 points. Including a 6-0 run in the last minute to knock off Lamar. A big mid-week trip to Nicholls State is on deck. Followed by a quick drive to HBU.
5. New Orleans
2017-18 record: 13-11 (10-3) | Last week: 5 -
Solid win to finish off Corpus Christi on the road last week for the Privateers. UNO travels to SLU on Wednesday, then get McNeese State at home.
6. Central Arkansas
2017-18 record: 13-12 (7-5) | Last week: 8

The Bears may have slightly benefited from only having one game last week (win at HBU). Everyone else around them lost. UCA gets 2 home games this week, vs McNeese and then a big one vs Nicholls.
7. Abilene Christian
2017-18 record: 15-11 (7-6) | Last week: 7

The Wildcats got close at home vs Nicholls State, but close doesn't count for much right now. Only one game this week for ACU, and it's a tough road test at SLU.
8. Lamar
2017-18 record: 15-11 (7-6) | Last week: 7

Lamar survived against struggling Northwestern State, and then as mentioned earlier, blew a four-point lead with under a minute to play in Huntsville. The Cardinals have a pretty decent week with home games vs UIW and Corpus.
9. Texas A&M-CC
2017-18 record: 8-14 (5-7) | Last week: 9 -
The Islanders are going to be a tough out for everyone as we close this regular season. They lost a tight one to Sam Houston and then a hard fought battle against UNO. It doesn't get any easier with SFA coming to town, but they always play the 'Jacks tough at home. They also have to travel to Lamar.
10. McNeese
2017-18 record: 8-14 (5-7) | Last week: 10 -
The Cowboys have lost 4 of their last 5 now, and can't afford to drop many more if they want to make the conference tournament. Trips to UCA and UNO could be a dagger to this season for McNeese.
11. Houston Baptist
2017-18 record: 5-20 (1-10) | Last week: 11 -
Last week obviously didn't go well, again. But good news for HBU, their best chance at win number two comes this week at Northwestern State.
12. Incarnate Word
2017-18 record: 5-17 (0-12) | Last week: 12 -
At some point UIW gets a game against Northwestern State and another shot at HBU right? Well this next week isn't that time.
13. Northwestern State
2017-18 record: 3-21 (0-13) | Last week: 13 -
Yikes.
Never miss the latest news from The Sawmill!
Join our free email list