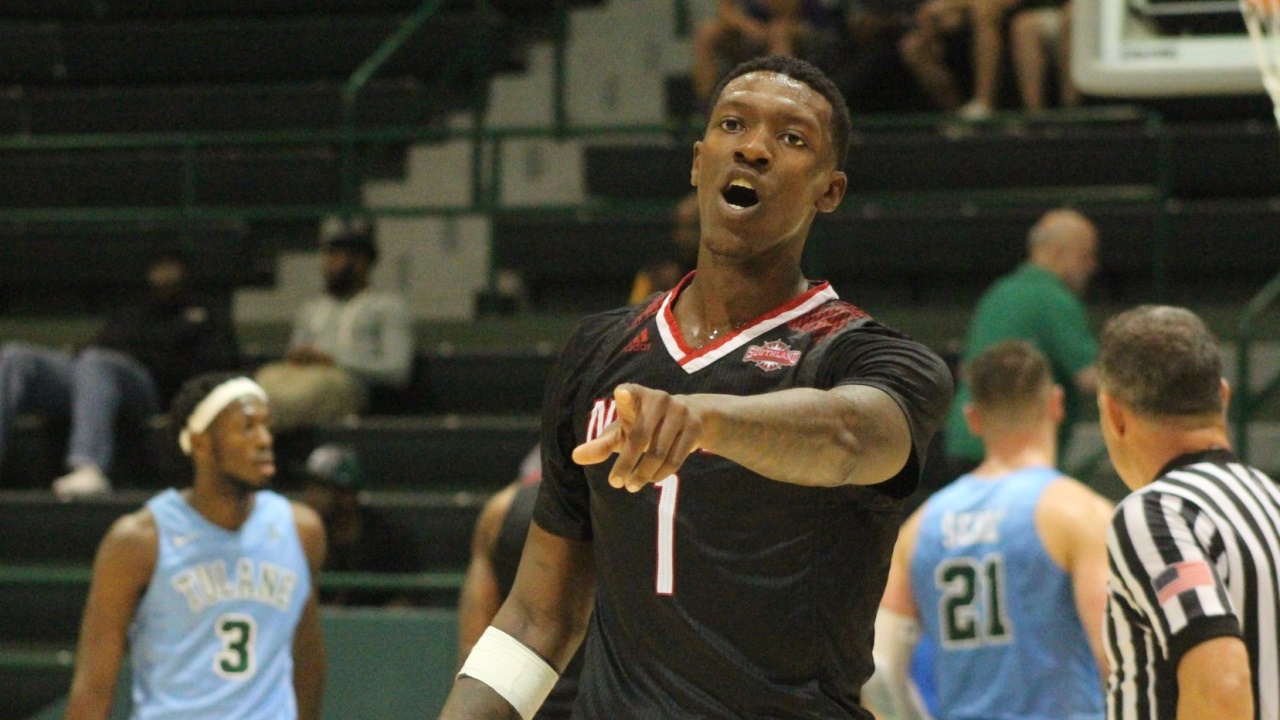 Photo by Nicholls Athletics
Stephen F. Austin Basketball
Prediction & Preview: SFA gets a blazing hot Nicholls at home
---
The Game: SFA Men's Basketball versus Nicholls State
The Time: Wednesday, January 3rd, 7:00 p.m. (CT)
The Broadcast: ESPN3 (television), Lumberjacks Sports Network (radio)
Very few people realistically gave the Southeastern Louisiana Lions a fair shot at winning the opener over Stephen F. Austin last Thursday, but here we are - SFA is 0-1 and Nicholls, their next opponent, is 2-0. The Colonels absolutely blasted their way through Northwestern State (by 41) and Incarnate Word (by 17) and roll into Nacogdoches as arguably the hottest team in the field.
They're talented too - very possibly the team with the most plentiful set of offensive weapons, including nine seniors, in the entire conference - but had lacked the winning instinct until lately.
They've had chances, though. Up 10 on a pretty good Louisiana team with 15:58 to play, up 17 on a really good Tulane team on the road with 12:43 to play. Somehow, they found a way to blow both leads but a glimpse at the potential of this team was measureable, certainly, with so many newcomers still working into the fold.
Three storylines to follow...
How does SFA respond to being upset in SLC play? What happened to the Lumberjacks of the non-conference season who outworked every team they played? Well, they disappeared after losing by a single point to Missouri. Not only did Southeastern outwork SFA, they looked like they wanted to play a lot more. Head coach Kyle Keller ripped SFA's body language after the game and tried to make a statement by benching some of his stars early in the contest.
Since Friday, the Lumberjacks have been a little more spirited than usual. After practice ended on Monday evening, nearly the entire team stuck around to practice shooting and to enjoy each other's company on the court well beyond the required time. Hopefully it is a sign that they'll come ready.
Keller said he texted his old boss, Kansas head coach Bill Self, after the Jayhawks dropped back-to-back games at home earlier this season. Kansas has a thing for losing a couple and then winning out with a greater sense of urgency. Usually it happens during Big 12 play, but this time it came early and at home. "I bet your league is pissed," Keller told Self.
After SFA fell in Hammond, Self returned the favor. "I bet your league is pissed," he texted to Keller.
We'll find out if they should be on Wednesday night.
Nicholls has been forcing turnovers at an insane pace recently. Stephen F. Austin has hung their hat on forcing turnovers all season. Lately, Nicholls has done the same.
The Colonels have turned over their opponents more than 20 times in five of their last six games. That doesn't bode well for an SFA team who has been a bit charitable at times and turned the ball over 21 times their last time out. Nicholls boasts the top scoring offense in the Southland and is helped by the second best turnover margin - second to SFA's with +4.47.
All things considered, don't be shocked to see another game with the potential for 40 combined turnovers. Both these teams do a far better job forcing the other into mistakes than avoiding them themselves.
Nicholls scores the most points but SFA has actually been better offensively. The Colonels score a lot of points. A lot. 88.5 on average, in fact, which represents a nearly six-point lead on second place SFA.
Part of what has allowed Nicholls to do it, though, is the crazy short possessions they have. Completely opposite to Southeastern, who probably holds on to the ball the longest of anyone, Nicholls doesn't believe in using the shotclock. In some ways, their style is similar to Mike McConathy's successful Northwestern State teams of the past. There are so many possessions in a Nicholls basketball game that it's hard not to score a lot of points.
Offensive efficiency, while also scoring a solid 1.001 points per possession, actually sits behind the Lumberjacks' 1.016. They rank, respectively, 182nd and 156th nationally.
So yes, there will probably be a lot of points scored, but that can be a little bit misleading sometimes.
Three Nicholls State Colonels to know...
This is a very different group than SFA faced last season. There are few familiar faces but a lot of new talented scorers. Here are three of the highlights:
Jahvaughn Powell. One of the few familiar faces, Powell is the top returner from last season's team. He's averaging fewer points this season but he's a better player on a much, much deeper team. His 10.3 points per game rank fourth on his team and he adds 3.6 assists and just under three rebounds. He scored 14 against SFA last season in a 20 point loss.
Roddy Peters. He's on his third college team but he's the best player without a doubt. The former 5-star recruit and 6-foot-4 guard, formerly of Maryland and South Florida, is averaging 17.2 points and that's including a goose egg against Incarnate Word after he played just seven minutes. He might be the best overall talent in the Southland Conference and will be a huge chore to contain.
Tevon Saddler. The other mismatch player who has started the season on fire, Tevon Sadler is another wildly talented and oversized guard. A transfer from UNC-Greensboro, Sadler stands at 6-foot-6 and is averaging 16.1 points and 3.1 assists per outing. He's not a huge threat from behind the arc (currently with just nine makes on 36 attempts) but he has Kevon Harris dimensions and is really tough to guard. These are really good players by Southland standards.
The Lumberjacks win if...
They turn the ball over fewer than 15 times. Possessions may not be quite as valuable when you have as many as both teams will have in this game, but the points scored off them will be. Nicholls has an excellent transition game, partly because they run almost every possession like they're in transition, and they'll score gobs of points off turnovers if SFA can't hang on to the basketball.
The Lumberjacks need to come out angry and assert themselves defensively. Nicholls has proven to be a team capable of self-induced collapse when they get rattled but they're by far the most talented and experienced team SFA will face in league play. The Lumberjacks need to get in some heads early and create one of the Colonels' patented scoring droughts. Speaking of which -
The Colonels win if...
They avoid any long stretch without a field goal. Some have complained about SFA's scoring droughts this season but it's been nothing like the Colonels have dealt with. They can look like the best offensive team in the game of basketball for stretches and then fail to score anything for others. That has been key to all the blown leads this season against really good teams; games that could have made them look really, really good.
This is another one. They absolutely have the capacity to win this game if they can avoid the same traps that they have fallen into against other solid opponents.
Fast Break Points...
- Aaron Augustin continues to nurse an injured shoulder. He will play against Nicholls but hasn't quite been operating at 100% since hurting himself against Louisiana Tech and re-aggravating it during a practice collision. There may be times that John Comeaux is relied on for some additional defensive minutes as a result.
- Body language is a really big deal to Kyle Keller. Sometimes his rotations haven't made a lot of sense to viewers at home, notably the absence of Shannon Bogues against Southeastern. But asserting good habits for his team is as valuable as winning at this stage of the season. Early this year, Leon Gilmore was also pulled from a game early. He has possibly been the most active defender on team since.
- Ty Charles is shooting the ball really, really well in practice. How that translates into games still is a work in progress, but his midrange shot has been lethal in intersquad play. As he rounds into shape, there's no question he'll continue to be a bigger and bigger part of the team offensively.
- After starting league play with an unexpected 0-1, SFA gets three of the next four at home. The one road contest, at Northwestern State, will see the Lumberjacks battle the team struggling more than anyone in the 13 team field. This early stretch is highlighted by a January 10th meeting with defending SLC champion New Orleans.
The Verdict...
There should be lots of offense and lots of turnovers. Because of the number of possessions, a bad shooting night could make an otherwise close game look a lot like a blowout. I think it'll be close until early in the second half, when SFA makes a run. Nicholls will close the gap late to make it look close, but I can't see the Lumberjacks dropping one at home this early.
Nicholls is unlike anyone else in the conference with their transfer talent, but winners win at home.
Stephen F. Austin: 81
Nicholls: 74
Never miss the latest news from The Sawmill!
Join our free email list