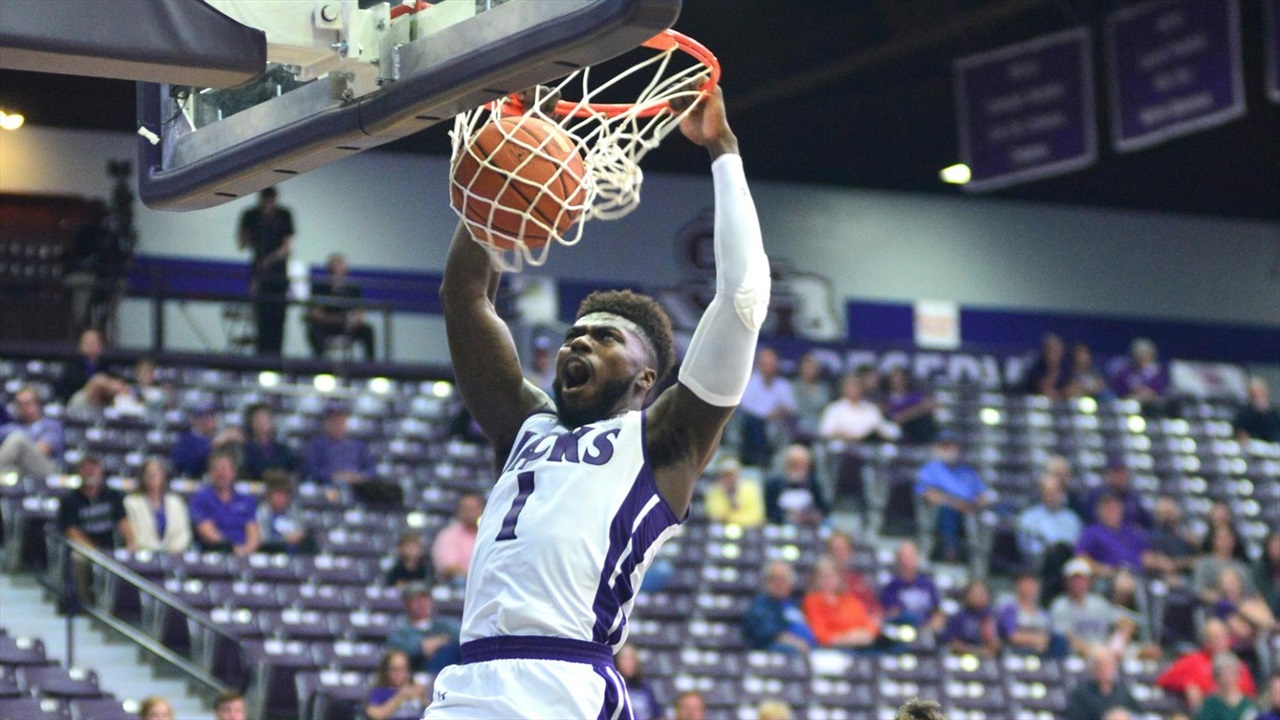 Photo by SFA Athletics
Stephen F. Austin Basketball
What We Learned: SFA basketball flying high through non-conference
---
Nationally, Stephen F. Austin wasn't the sexy pick in the Southland Conference headed into the 2017-18 season. Lamar got some love, Southeastern Louisiana, even Texas A&M-Corpus Christi from time to time. In the minds of many, SFA sported a head coach in Kyle Keller that was still largely unproven, a roster that fell short of goals a year ago, and a rational belief that the fuel powering the irrational success in Nacogdoches over the last half-decade was finally running on empty.
Among people who knew the league, though, there wasn't a lot of doubt where the favorite resided. That's why when coaches and SIDs were finally polled, SFA was the resounding pick to win a fifth title in six years. Keller, who was dealt a difficult hand a year ago, took a team in his first year that looked among the worst in Division I basketball in the non-conference to a runner-up finish in the Southland by March.
People who paid attention noticed. People who didn't pay attention are on the verge of noticing now.
After the season's torrid start, SFA enters a weekend contest with Louisiana-Monroe with a chance to capture their eighth win of the season - a feat not accomplished until their fifth game of the conference schedule in mid-January last season.
Granted, SFA has not played a difficult schedule up to this point. It's why so many still haven't realized just how dangerous Keller's program can be. Three of those wins have come against non-Division I competition and two more against teams in the bottom 10 in national RPI. With a quality win over North Dakota State in the books and games against very good Louisiana Tech, LSU and Mizzou teams in the coming weeks, the Lumberjacks have a prime opportunity to prove their fans are not witnessing fool's gold.
As we pick up our What We Learned series resuming this weekend with columns after each game, we'll play a little catchup in the meantime. Here's what we know about Stephen F. Austin basketball as November turns to December on a new season in Nacogdoches:
SFA has an opportunity to sport a historically good defense -
The Lumberjacks have relied on a defense-first philosophy for nearly 20 years. Beginning with head coach Danny Kaspar, SFA has built their identity on relentless pressure. They've never been a true full-court press team, but the effects have been similar.
Brad Underwood and now Kyle Keller have kept that identity intact. Albeit in a small sample size so far, Keller's version of that defense could possibly prove to be one of the program's best all-time.
A defense that relies on anticipation, ball denial, and positional cheating runs a high-risk, high-reward outcome. Teams can turn the ball over at insane numbers but also break free for easy layups - think UAB's shooting 72% in their victory over SFA last season.
Being able to recover quickly is a key because finding yourself out of position on multiple possessions is almost a guarantee. SFA has done that well at times and not so well (UAB) at others. The sheer athleticism to do it at the level of this team may not have existed in recent memory, though.
Players like Leon Gilmore, Aaron Augustin, John Comeaux, Kevon Harris and TJ Holyfield have been phenomenal on the defensive side of the floor. Others like Shannon Bogues have the unprecedented athleticism to get there.
Brad Underwood's final team at SFA, a great defense in their own right, rode experience and continuity to stay in position frequently. Kyle Keller's team in 2017-18 might have the athletic ability to be great even without that.
TJ Holyfield found the nasty streak he's lacked in years past -
In Keller's first full season, coaches relied heavily on Ty Charles to inject his passion into a team full of nice dudes. There were times when it was too much - a bench staredown that led to a technical at eventual-league champion New Orleans that sparked a big Privateers run - but far more often it was the "juice," as Keller often says, that suffocated opponents.
TJ Holyfield, a wildly talented player and frequent mismatch in the post, has played a key role for SFA since he was a true freshman. If there was any complaint about his game, though, it was his pass-first mentality that seemed to stunt where he could maximize his potential. He lacked the "killer instinct" that great players possess. He was too damn likeable.
That hasn't been the TJ of 2017-18. Much like Charles a year ago, it hasn't helped in every instance - a technical for trash talk started an eventual game-winning run for Mississippi State, a dunk attempt that could have iced the victory against North Dakota State failed because there was a little too much show boating on the 180-degree reverse slam. There was also a big staredown at Longwood and other non-TJ-like moments over the first month of the season.
No, TJ hasn't been perfect and his judgement not impeccable. That's a good thing. All the countless hours he spent in the gym would mean little without the mindset of greatness.
He appears to have found it. Polite and goofy in personality can still be mean and nasty on the court. TJ Holyfield appears to have figured that out in his junior year.
The variety of scoring options has already won a game for SFA -
SFA spread the wealth last year but there wasn't a whole lot of it. There were no prolific scorers, even though a number of players - Ivan Canete, Dallas Cameron, Leon Gilmore, TJ Holyfield - reached or approached double figures. Without a true point guard and lacking the athleticism to make their own shots, though, the offense suffered even against bad teams.
The North Dakota State victory this week shows the growth, despite the low score. Against the Bison, SFA was objectively bad shooting the ball. Typically solid contributors, like Holyfield, had atrocious offensive nights. When nothing is working for someone, though, maybe it is for someone else. Harris and Holyfield taken out of their offensive flow? No problem. It just means Leon Gilmore had his best night of the season.
That Tuesday win against NDSU is a loss without Gilmore - a player who hadn't had to be a big part of anything offensively this season until that evening.
When Bogues struggled a bit against Florida A&M? Holyfield was there to pick up the slack. Bogues, Holyfield and Canete did the same for Kevon Harris (save the fatal scoreless stretch) against Mississippi State.
It helps that Aaron Augustin remains the most improved player on the roster and is absolutely playing like a point guard. Harris as a sophomore and the addition of Bogues have entirely changed the scoring dynamic and where it felt like the 'Jacks lacked an elite scoring threat at all last year, now it seems they may have more than one.
The offense is hardly a polished product and it has looked downright dysfunctional at times, but relying on a single player to be great will never be the fate of this team in 2017-18. There are seven players capable of regularly scoring in double figures and each of them will be required to do it at different times.
Buckle up. This has the early signs of a really fun season in Nacogdoches -
The best team in all of Division I college basketball at forcing turnovers and stealing possessions through the first month of the season resides in Nacogdoches. No, there haven't been a lot of truly difficult tests, but this team passes the test of potential with flying colors.
They are not great right now, but the possibilities of getting there are clear. An injury, a bad loss, or anything else could turn the season to a sour note in a heartbeat. But I'm here to tell you this: the chances that this team will be very good right now outweigh the chances they won't be. As a fan, what more can you ask for?
Jump on the train early. Stephen F. Austin basketball is back.
Never miss the latest news from The Sawmill!
Join our free email list