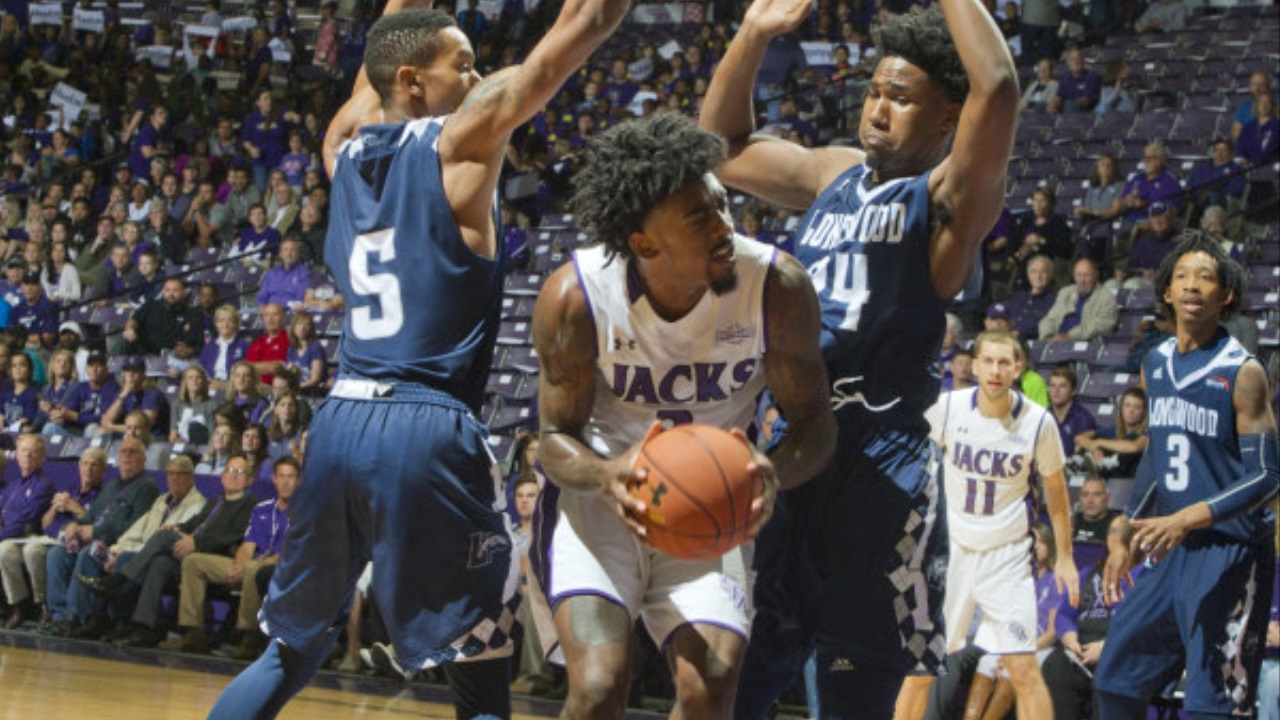 Photo by SFA Athletics
Stephen F. Austin Basketball
Source: SFA's Leon Gilmore III 'no longer part of the team'
---
Editor's Note: Stephen F. Austin has evidently opened the door to a Leon Gilmore III return, sources told The Sawmill days after this original article was published. You can read the latest on the Gilmore situation here.
At the 2017 Southland Conference Tournament, Leon Gilmore III was on fire. During Stephen F. Austin's victory over Lamar and season-ending loss to Texas A&M-Corpus Christi, the forward from Houston, Texas scored 19 and 20 points to pair with the elite denial defense he showed for most of his junior season.
Those games, along with a CIT contest at Idaho, will be his last as a Lumberjack.
The transfer from Creighton by way of Trinity Valley Community College is "no longer a part of the team," a source close to the Lumberjacks basketball program has told The Sawmill. Gilmore has been noticeably absent from team photos and SFA's official roster over the past week. This news confirms it is no coincidence.
Gilmore averaged just north of 10 points per game during his first and only season in Nacogdoches, helping SFA to a second-place finish in the Southland Conference. His breakaway dunks were a trademark of that 2016-17 team and he quickly became a fan favorite in William R. Johnson Coliseum.
While no official comment has been made at this point, head coach Kyle Keller will participate in his first press conference of the preseason early next week and is expected to address the Gilmore situation then.
If there is any silver lining, it is only that Gilmore's absence will likely create additional minutes for sophomore guard-forward combo Kevon Harris. SFA will open the season on November 11th at Longwood with a front court consisting of freshman Stefon Fisher, sophomores Harris, Samuli Nieminen, Nathan Bain and juniors TJ Holyfield and Jovan Grujic.
Guards Ivan Canete and Ty Charles will be the only seniors.
Never miss the latest news from The Sawmill!
Join our free email list