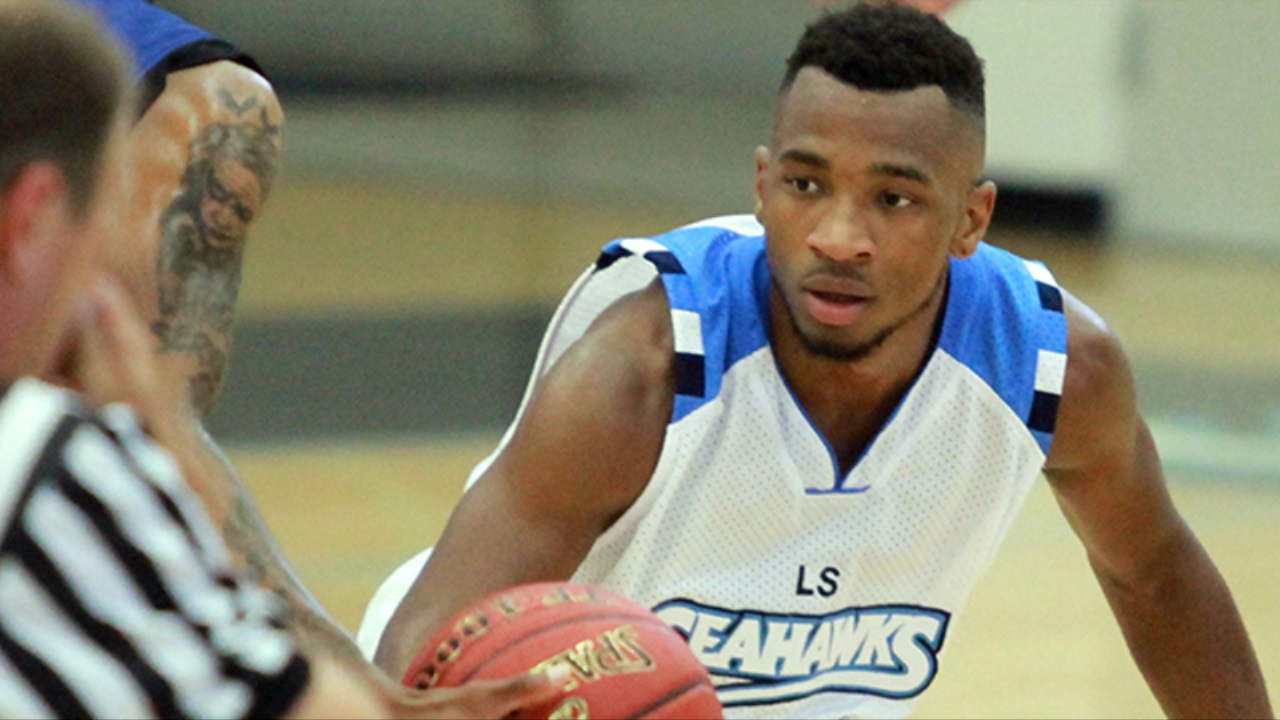 Photo by Lamar State College
Stephen F. Austin Basketball
John Comeaux saw SFA as an opportunity to win, improve
---
A leisurely drive up highway 59 from Nacogdoches is both scenic and therapeutic. Ride far enough, an hour to be exact, and the quiet town of Carthage, Texas might appear. It's home to the picturesque campus of Panola College and the Ponies basketball team that just recently returned to the NJCAA Division I Tournament for the first time since 1979.
On January 6th, it was also the site of one of the great games of the year.
Trying to earn their first win in region play, Lamar State College arrived in Carthage to do battle with the Panola. It would set the stage for one player to put on a show of dominance so compelling that it would vault his name immediately into the radar of the NCAA DI world.
His name? John Comeaux. The freshman point guard from Beaumont, Texas led his Lamar State Seahawks to victory behind a masterful 47-point performance that culminated in a drive and go-ahead pull-up jumper with two seconds left on the clock. For stretches, Comeaux was the totality of the Seahawks offense, outscoring the Ponies in the final minutes of the first half 14-2 all on his own.
It was the beginnings of a dominant season for Comeaux that saw him average just shy of 20 points per game and four assists. And now, after just one season at the junior college level, Comeaux has signed with Stephen F. Austin, with three years of eligibility and ready to strengthen the team immediately.
"I just want to be able to contribute to winning games and add to all the wins they've had there," he told The Sawmill.
Comeaux stands at six-foot and has the athleticism to get to the rim - as a driver and a dunker. From his junior year of high school:
Head coach Kyle Keller will play Comeaux as a point guard, joining freshman Cameron Mack and fellow sophomore Aaron Augustin. The second year leader of the Lumberjacks program sees the potential for immediate contribution from his latest prize. "I only recruit guys that I think can help us win big," he said.
Others around the Lumberjacks program believe Comeaux could be big time steal and, along with Mack and Augustin, transforms the team's primary weakness from a year ago into a position of strength.
For Comeaux, who was recruited hard by Lamar University in his hometown (among others), SFA's pitch represented a contrast to what many prospects are used to hearing. "Most people tell you how good you are. They told me where I could improve," he said. For Comeaux, well spoken and mature, it was perhaps the biggest factor in his decision to become a Lumberjack.
Time will tell exactly what role Keller and his staff see for Comeaux. The battles between he and Mack should be a treat to watch in preseason practices and both players' ability to score could lead to lineups that see both players on the floor at the same time.
In the meantime, SFA fans can be appreciative that the 2017-18 Lumberjacks just got better. Again.
Never miss the latest news from The Sawmill!
Join our free email list